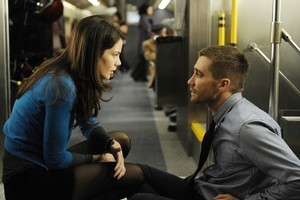 "Just treat it like it's a game" says the guy who has woken up yet again on a Chicago commuter train in the body of another man. He is talking to the woman who knows the real guy sitting opposite and is now wondering at his strange behaviour.
The line lets slip some of this largely terrific film's own source code. For all its pondering of quantum physics and other Big Ideas, it's a movie which runs on video game logic with its ending-is-what-you-make-it storytelling.
That is, when Colter Stevens (Gyllenhaal) wakes up on that train with eight minutes to defuse a bomb and find the terrorist among the passengers, he must solve the problem based on his accumulated memory of his past failures. Just like a video game.
And every time he fails, boom goes the train and everyone in it - including Christina (Monaghan), who, it seems has been waiting for Stevens' alter-ego to make a move - just not one involving madly interrogating every other passenger in their carriage.
Stevens finds himself back in what he assumes is reality being commanded to go back in by his Air Force handler Goodwin (Farmiga) and her scientist boss (Wright), who has found a way to inject one person's mind into another's for the final eight minutes of their life. It's something to do with human memory having an afterglow that can be tapped post-mortem, useful when it comes to finding terrorists. So yes it's in Philip K. Dick territory, or a short haul economy class version of Inception.
How Stevens, a USAF captain has been assigned his twilight zone mission is a mystery. The film cleverly only tells us what he is told, until the answers become self-evident.
And while its infinite loop thrills make it intriguing, it neatly balances its mind games with a human touch. Gyllenhaal is nicely unhinged as the guy trying to unravel two mysteries - the one on the train and the one about why this has become his only mission in life - while wishing he had more time with Christina.
There are allusions to other stories which have traversed similar ground, whether it's a touch of The Manchurian Candidate or even a nod to television's Quantum Leap.
And as the son of David Bowie, director Duncan Jones shows his gift for claustrophobia, once again making a movie about a man floating in a tin can - his fine debut Moon had a man in sole charge of lunar mining base.
In this, Stevens' real-world accommodation is an metal capsule which has a video feed to his minders in their lab but which he isn't allowed to leave.
And while the Kubrick-influenced Moon was a low-budget wonder, the bigger more action-driven Source Code seems, despite its technical wizardry, quite Hitchcock-like in its train scenes, and Jones shows remarkable restraint for a film of so many explosions.
He does though deliver a slight soft cop-out of an ending. But that doesn't stop the first 85 minutes of Source Code playing a whole different game - and one that engages, perplexes and thrills in equal measure.
Stars: 4/5
Cast: Jake Gyllenhaal, Michelle Monaghan, Vera Farmiga, Jeffrey Wright
Director: Duncan Jones
Rating: M (offensive language and sexual references)
Running time: 94 mins
Verdict: Rare sci-fi thriller of brains and heart
- TimeOut