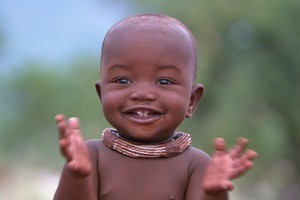 On the verge of celebrating a year as a grandfather, I should be a sucker for this, a visual diary of the first year in the lives of four strikingly different human beings. But I found it a faintly nauseating reminder of the inescapable fact that no baby is as beautiful as one's own (or at least one's own's own).
The compact film cuts back and forth between Ponijao, whose home is a dirt-floored thatched hut in a Namibian village; Mari, who lives in a high-rise apartment block in Tokyo; Hattie, a middle-class baby in San Francisco; and Bayarjargal, whose home is a nomad's ger on the steppes of Mongolia.
Possibly the most accurately entitled movie of all time, it is wordless, but speaks volumes in a whisper, underlining the lamentable fact that we are not all created equal.
Beyond that modest agenda, it's really a kind of moving album of mercilessly cute baby snaps. Its subjects reveal themselves as natural comedians, drama queens, adventurers and ... well, babies. If staring at babies that don't share your DNA is your idea of fun, you'll adore it.
Otherwise, you may want to steer well clear.
Stars: 2/5
Director: Thomas Balmes
Running time: 79 mins
Rating: G
Verdict: Cute and cuddly.
- TimeOut