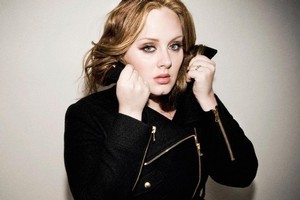 The Someone Like You hitmaker - who is straight - has been infatuated with the Bajan beauty since she saw her perform on Simon Cowell's talent search show The X Factor last year, admitting the Rude Boy singer's "stunning thighs" made her feel "a bit gay".
She said: "If Rihanna wanted me, I'd do it with her. She's hot.
"She had pinstripe flares on. She whipped them off and there were her stunning thighs. I said to all my girlfriends, 'Are you feeling a bit gay right now?"
Despite the 23-year-old singer's girl crush on Rihanna she still loves boys but finds her singledom increasingly "depressing".
Adele added in an interview with The Sun newspaper: "I love boys, love men. I am fascinated by them even though at times they let you down and hurt me. But right now I am more single than ever. It's so depressing."
One thing likely to have cheered the singer up is the karaoke bash she hosted for her 23rd birthday yesterday, where she reportedly planned to belt out R Kelly's hit Ignition.
She said before the event: "I'm having a karaoke party. I'll be singing R Kelly's Ignition. I've been learning my harmonies all day."
- BANG! Showbiz