The latest release from local rapper PNC is a risk-taking collection of diverse songs which reflect his wide musical influences, writes Scott Kara.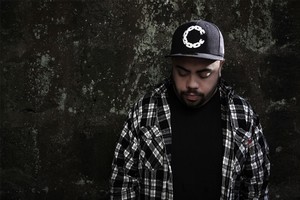 He used to be a party boy, that Sam Hansen. But recently the 27-year-old rapper - better known as PNC, after his home town of "Palmerston North City" - reckons he's pulled his head in.
"I've been having fun right from the time I was a teenager," he says with a big friendly grin. "But you start thinking more about balancing out your life properly."
There was no epiphany that brought him round to this way of thinking, it's just that he's grown up and he's looking for a little bit of balance in his life.
And, as the title of his third album Man on Wire suggests, it's come through in his songs. There's Smile, about "the frustration of making music and life in general", the autobiographical I Want it All reflects on his life, from being brought up by his mum in Palmy, working at KFC, finding a "lover for life", and seeing himself on TV, and then there's the collaboration with Auckland rap crew Homebrew where they ponder the glory days of drinking too much Lion Red on the laid-back lope of Slow Motion.
And musically, Man on Wire also represents PNC's most diverse - and balanced - collection of songs, which is not surprising considering he's come up with some of the most inventive hip-hop out of New Zealand in recent years. Where 2006 debut Rookie Card was a mostly straightforward hip-hop album, and 2009's excellent Bazooka Kid a party-starter in an 80s vein ("Almost like a concept sort of album."), Man on Wire is accomplished and ambitious while still being fun, thanks to rump-rattling tracks like That Kinda Guy and She Got It.
"I hate the word, because it sounds really pretentious but it's really eclectic," says Hansen, screwing up his face. "It's got all the elements of music I like, it's everything I'm into, and everything that I think I'm good at making. At its core is hip-hop, but it takes influence from rock, electro ... and it is a bit more of a journey [than in the past], it goes to different places. Those are the sort of albums I've always loved."
He's talking about records like Outkast's 1998 Aquemini, which is referenced twice on Man on Wire, "where every song is in a completely different place but to me it made sense and it's completely cohesive".
He admits that some people might find his sound confusing, and even annoying, but he believes that's what keeps music interesting. And his approach is what helps PNC stand out from the crowd because you have to be brave to do something different in music these days.
"Well, people don't want to take risks and they just want to stay cool and there's an insecurity about throwing different things out there. And I don't try to be risky. People think I'm a risk-taker with music, but it's just that I like a lot of different kinds of sounds."
The best example on the album is Let Your Lover Know, a song with North Shore band the Checks and PNC's producer mate 41 (aka Nick Maclaren, who along with Fire & Ice are Hansen's two production collaborators on the album).
It's a trippy track that snakes and saunters along and sounds unlike anything else. It's hip-hop, but it sounds like it's something else. Like reggae, or dub, with psychedelic electronic bits in it as well. And I think it's good for hip-hop when you try different things," he says proudly.
There's a more sinister side to the album on Murderer with its menacing mantra "kill, kill, kill" which belies Hansen's happy, smiley, and slightly shy personality. "I don't really want to kill anyone or anything though," he laughs. He says it's just about conjuring up a mood and keeping it interesting.
"All the musicians and rappers I liked when I was growing up did it too - they had the songs you listen to purely for fun, the party songs, and then they had a personal side to their music where they opened up about their lives," he says of artists like the late Notorious B.I.G., A Tribe Called Quest and Jay-Z.
"That sets them apart and they've always had that balance in their music - and that's something I always want my music to have."
LOWDOWN
Who: PNC
What: Man on Wire, out now
Past albums: Rookie Card (2006); Bazooka Kid (2009)
- TimeOut