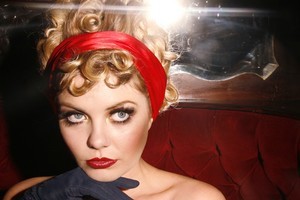 To help celebrate NZ Music Month, TimeOut and nzherald.co.nz, in conjunction with Frequency Media Group, are giving away a free download EP every Thursday in May.
The first of the Outlook for Thursday series is designed as a Mother's Day treat - one for mums whose tastes extend to great local pop music - as shown by these five hand-picked tracks ...
Julia Deans
The Wish You Wish You Had
From her debut solo album Modern Fables, this lovely bittersweet tune is a fine showcase for Deans' voice range and how her songwriting is moving away from the pop-rock confines of her Fur Patrol days.
Anna Coddington
Little Islands
From her sophomore album Cat & Bird, an infectious blast of fuzzy indie-pop guitars topped by Coddington's dreamy vocals.
Simon Spire
Four-Letter Words
The title track from the New York-based Kiwi minstrel's recent second album shows his way with a big stacked-harmony chorus and indelible hooks.
Fredericks Brown
What Lies Within
The trio of Deva Mahal, Stephanie Brown and Michael Taylor are now plying their jazz-soul-blues trade in the Big Apple and this scorching track from their EP Out of the Rain shows - especially care of Mahal's voice - it's probably only a matter of time before the world takes notice.
Sarah Brown
Best Of You
The first single from the Blenheim-bred singer-songwriter's second album The Great Heart Robbery comes with a retro torch-soul style and a sassy vocal.
To grab the songs and accompanying artwork, simply go here.
See TimeOut for the next three weeks for details on our next EP giveaways, which will cover urban-pop, dance, and alternative.
SESSIONS FOR YOU
Meanwhile, nzherald.co.nz are taking Auckland acts Grand Rapids and Nightchoir into York Street Studios for what will be the first of a new series of sessions filmed and recorded just for nzherald.co.nz users.
Each band will play a 20-minute set in front of a select audience of friends and family, shot in HD, with audio mixed by the team at York Street. We'll be releasing the full sessions on our website over Music Month, as well as interviews with the bands.
We'll also have a special page as a dedicated home for anything and everything NZ Music Month-related, to make it easy as possible to find out what is, and has, been going on.
-TimeOut