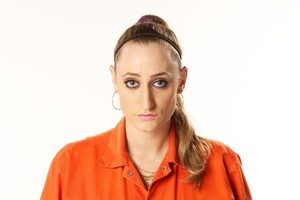 Lauren Socha is used to being asked if she's a bit of a chav at heart. She's from the Midlands and insists that she is not chav-like. "Not one little bit."
Socha, 20, has been playing the slightly rough character Kelly - the one with the Essex-facelift of a tight ponytail and big hoop earrings - for two years now, and is about to start filming the third series of the Bafta award-winning show.
Her character, Kelly, is one of five delinquent young offenders who inherited superpowers when a strange electrical storm struck them during community service. Kelly finds out she can read thoughts.
This is Socha's first television gig, and she says that at first she wasn't quite sure how she was supposed to play out such a quirky script. But she understands the fascination with superheroes and the supernatural - she owned a Catwoman costume when she was a kid.
"I used to sleep in it when I was about 5, it's quite embarrassing."
Misfits is her first big show, but back home she's becoming known for playing rather tough women.
In her first big screen appearance, the film The Unloved, she played a troubled 16-year-old in a care home and was nominated for a best supporting actress award at the Baftas.
She thinks she has a "look" that suits tough girls.
"That's just the way I look I think, it's just my features that make me look a bit scary," she says.
"But I'm not."
The look is enhanced by the uncomfortable hairstyle Lauren must wear for Misfits. Kelly describes the second season, which supposedly sees the misfits moving on from community services, as "quite disturbing".
The final episode of the first season left viewers with Nathan (Robert Sheehand) six feet under and alive - having spent the first season searching for his superpower, he had seemingly discovered that it was immortality.
Socha won't hint at what's in store this season, but does say that Kelly will encounter a monkey.
"That's all I'm saying."
As for why Misfits has made such a mark directly after Heroes, and when competing with the likes of No Ordinary Family, Socha shrugs.
"I think it's a good TV show because it's very different you know. It's like a Britain version of whatever is on the telly at the minute, you know, like Heroes and whatever. "I think we can relate to a lot of the characters. There are Kellys and Alicias in England.
"Well, they are everywhere but I just happen to know England."
LOWDOWN
When: Tonight, 9.30pm
Where: Four
What: Heroes meets Skins take two
- TimeOut