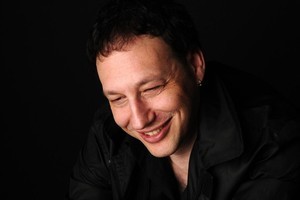 Once, Carey Marx got a kick out of tricking people. These days the English comedian seems a bit repentant for all the faux-sorcery and this year's public self-confession seems to serve as some sort of therapy.
To save himself, and fellow illusionists, from persecution for their crimes against manipulation of the human mind, Marx sets out to dispel every myth, marvel and belief in the room.
He reveals early on that he finds sceptics rather attractive. And it seems he is determined to turn each and every member of his audience into one. He begins by telling a long, meandering, but utterly captivating anecdote about a seance and, proving himself as a master of storytelling, brings the show full circle to explain how he engineered the simple hoodwink.
In the meantime, Marx has leapt about the stage chuckling like a big kid as he disproved the existence of ghosts, God and the healing properties of homeopathy.
Along the way he demonstrates how he couldn't possibly be applying magic when a member of the audience miraculously finds she is holding not one, but two sponge balls, and that he managed to snap spoons by looking at them. How preposterous, the audience laughed, unconvinced.
Using his amiable intellect, Marx presents a series of thoroughly researched, incredibly passionate arguments that render the principles of alternative medical practices as completely crackers. Giving someone arnica water is no different from your butcher offering you a glass of water that has had a steak dipped in it instead of a slab of meat, he says in one string of hilarious analogies.
It is worth noting that anyone with a keen interest in making a buck off homeopathy should probably avoid the show if they value their dignity. Those who spend money on it should probably attend.
Elsewhere Marx conjures up side-splitting controversies as to why ghosts can not possibly be fully clothed and why the world would be a much more polite place if people renounced the Divine.
It's a show that grates against the grain of its audience's insecurities while also pulling their laugh strings. Magic.
Carey Marx's show is on at The Classic until Saturday.