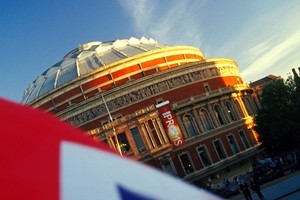 Weighing 150 tons, soaring 70ft into the air and featuring 9,997 pipes, the Royal Albert Hall's 19th-century pipe organ is far from contemporary music's cutting edge.
However that hasn't stopped a spate of pop and rock musicians from blasting the bombastic instrument into the modern age.
In the Albert Hall's mammoth pipe organ's history, contemporary artists including Muse, Madness and Deep Purple have all played or composed for it.
Sir Elton John, who learnt to play one as a student, expressed his support for the London instrument's much-needed 2002 refurbishment.
Now British-Indian musician and composer Nitin Sawhney is the latest to test the organ's stops and pedals, having written a new work for the instrument to be performed by British Hammond organist James Taylor at the Albert Hall this Friday.
"I wanted us to have the opportunity to do something different with this amazing instrument," said Royal Albert Hall director of events Jasper Hope, who commissioned the work.
"I was looking around at what had been done before. There are so many potential uses."
Sawhney will use the gig to perform material from his forthcoming album, Last Days of Meaning, released later this month, as well as the new 15-minute piece.
"There is so much you can do with this thing, the sheer scale of sound is incredible," Sawhney told the the BBC Radio 4 programme Front Row.
Hope commissioned Sawhney after seeing Muse lead singer Matt Bellamy play his hit track Megalomania on the instrument in 2008 at a benefit concert for the Teenage Cancer Trust.
Bellamy introduced his performance by saying: "Since we're at the Royal Albert Hall, it would be rude not to play this beast".
Liverpool-based pipe-organ builders Henry Willis & Sons built The Royal Albert Hall's organ in 1871. At that time it was the biggest in the world. However by the end of the 20th century it had fallen into a state of disrepair, and it was extensively rebuilt in 2002.
According to Hope, Sir Elton was a "big supporter" of the restoration, though did not say whether Sir Elton contributed funds.
Others to play the instrument include Madness keyboard player Mike Barson during their number Swan Lake at a 2008 concert. In 1969, Deep Purple used the instrument in their Concerto for Group and Orchestra, performed at the Albert Hall with the Royal Philharmonic Orchestra. The piece featured music composed by the group's co-founder Jon Lord with lyrics by the band's vocalist Ian Gillan.
Those performing on the Albert Hall's organ reflect a recent trend. Canadian band Arcade Fire used a church pipe organ on the songs Intervention and My Body is a Cage on their successful second album 2007's Neon Bible. Meanwhile, Roger Hodgson, former front man of Supertramp, used a pipe organ for several songs in his 2000 solo album Open the Door. Radiohead's Thom Yorke is a known fan of the church organ, having played one in Motion Picture Soundtrack, a track on his band's 2000 album Kid A.
Sawhney said he and Taylor had enjoyed experimenting with new instruments since childhood, when they first became friends.
"What was interesting was when we were about 13 or 14 I went with James to buy his first keyboard, and we were playing around to see what sounds we could get out of it," said the musician.
"Cut to 34 years later and we were doing the same thing with a refurbished organ. That was a strange moment."
Despite being a proficient Hammond organ player, Taylor said he had never played a pipe organ before.
"What we found was because it's a very grand instrument, to get the right sounds [we also had to] develop some intimacy in a place that holds 6,000 people."
-The Independent