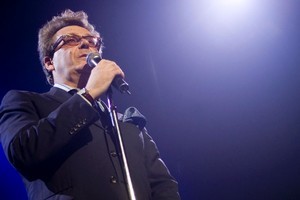 Just as this year's comedy festival seems a more modest affair than past years, so was its traditional opening night extravaganza.
Which had its own upside. The epic buffet of mirth - two hours on TV, even longer in the flesh - whipped through 22 acts without turning into the usual endurathon.
Helping sustain the energy was San Franciscan stand-up Arj Barker as this year's MC. He made good fun of how his supporting role as Dave on Flight of the Conchords had got him the gig ("I am the only cast member who returned their calls") and offered his own lateral-minded blackly comedic routine which recommends his own solo festival season.
And while this opening showcase boded well for the coming weeks, you might wonder where the comediennes were.
There were only two and they were the double act of locals Irene Pink and Justine Smith. The pair delivered a thumbnail of their joint show I'm Sorry I Said That, a routine apparently themed on how as female comedians they're thought of as being too crass and too loud but they weren't apologising for it.
Having explained that, there was no room for jokes. Their five minutes on stage was the sorriest of the night.
Some others failed to fire or leave much of an impression. Some due to too-high a bluster-to-gag ratio (Pete Helliar, Jarred Christmas, Rhys Matthewson) or dated subject matter (Paul Ego's REM-meets-Stephen-Hawking was itself a brief history of a time when both might have been useful comedy fodder. The 90s possibly).
Others found common ground. Ben Hurley and Aussie Wil Anderson included routines about spoilt brats in cafes. Anderson's was brilliantly scathing, all part of a discourse on the difference between "want" and "need".
Elsewhere, American Greg Proops' ponderings of his country's politics might have been the night's only current affairs commentary, even if it sounded like a dated default setting. Though his adenoidal sarcasm didn't lack for energy.
Arguably the best American act of the night was country crooner Wilson Dixon, though he isn't actually from the US of A. But his cryptic and wry ditties and his droll delivery come with the sort of wordplay punchlines that can induce delayed chuckles hours after the event.
Local newcomer Matt Muholland's hilariously accurate faux 80s power ballad, possibly titled Accidental Incest (Doesn't make it all right) , boded well for the rest of his hit parade in his show Beyond Emotion.
He might have a one-man musical called Kevin in the festival, but 7Days regular Steve Wrigley opted for a sales pitch rather than a sample. The 80s reared again in Dai Henwood's monologue which flashbacked to a former life as a Hutt Valley wedding DJ, but sadly involved none of the interpretative dance, unlike past appearances.
But there was still plenty of physical exertion from others. Especially from the mad, bad and dangerous-to-hecklers Terry Alderton. The Brit's multiple personalities, voices and silly walks was a manic assault on the senses. Even more of one if you were in the front row. One of the least endearing acts of the night - his treatment of the New Zild is hilariously cruel - he was one of the night's few seen-to-be-believed turns.
So too was Sam Wills, aka "The Boy with Tape on his Face" whose wordless act, involving sundry household items as props and a couple of cheese-pop classics, was hilarious. How one gag on his mouth can inspire so many more is really something to see.
So too were Aussies the Umbilical Brothers whose slapstick, mime and sound effects remain a giddy delight, like a M-rated Wiggles.
Others to leave lasting impressions while reminding it's all in the delivery included the disdainful Marcel Lucont, an alleged Frenchman and master of the Gallic sneer; wild-eyed Canadian dude Glenn Wool, and mild-mannered Brit star Mark Watson whose halting high-anxiety delivery belies a barbed wit.
And Danny Bhoy proved again a Scottish accent puts you at an unfair advantage in stand-up. He's so gosh-darn likeable and relaxed, you almost want to hate him for it.