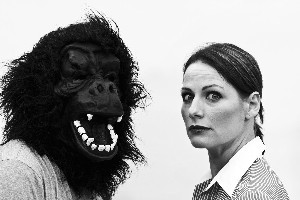 This play has a great starting premise: Virginia (Lisa Chappell), a film lecturer whose specialty is romantic comedies, has her own love-hate relationship with resident monster movie expert (Will Hall).
But it's not quite clever enough, and the main characters aren't sympathetic enough, to pull off its coy, self-referential flirting with the audience: is it a romcom or not? Will they live happily ever after together? It takes 110 minutes (20 minutes longer than the advertised 90) to find out.
Playwrights Kathryn Burnett and Nick Ward (Stickmen) are better known as screenwriters, and this is anti-intellectual television as theatre.
Feminism apparently means blaming every individual male for structural patriarchy; devised theatre is apparently always avantgarde. A succession of photographs are whipped up as backdrops for jumpcut after jumpcut of short-short scenes.
Directed by Te Radar, there are some cute moments, many furnished by the excellent supporting cast: Stephen Papps as the philosophical drainlayer, Michele A'Court as the "earthy" always-auditioning actress, and Erin Wallace who makes a great professional debut as the clueless, excruciating student/poet.
Hall is also good, natural and at his ease. Early on, he interacts nicely with the audience, as if lecturing to an auditorium of students. "What's the monster in Love Actually?" he asks. "No, not Keira!" Chappell is rather declamatory, but then, her character is extremely uptight, and her brief moments of sexual slapstick with Hall are amusing.
Romantic comedies are improbable - as Virginia tells us several times. The setting has as much to do with a real university department as The Princess Bride has to do with a real royal wedding. Then again, as I have attended one or two arts lectures in my time (I know; how elitist!), it appears I am not the target audience.
Mike and Virginia is on at the Herald Theatre, Aotea Centre, until Saturday.