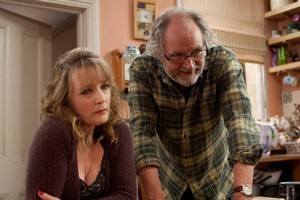 The inimitable Mike Leigh (Secrets and Lies, Happy-Go-Lucky) presents another remarkably observed character study, equal parts hilarious and insightful.
Ruth Sheen and Jim Broadbent play ageing British couple Gerri and Tom. Gerri is a counsellor who exudes patience and calm but knows how to have a laugh, and Tom is a cuddly geologist. The film follows four seasons in their lives, and although they are essentially the main characters, Leigh is more interested in exploring others in their orbit, most notably Gerri's workmate Mary (a stunning Lesley Manville, robbed of an Oscar nomination). Mary is constantly articulating how happy she is but, as the story progresses, Leigh and Manville peel off her layers to reveal one of the most awesomely bleak characters in cinematic history. Leigh and Manville's empathy for Mary never wavers as she provides some of the funniest and saddest moments in the film. Oliver Maltman and Peter Wight also lend great support as Gerri and Tom's son and old friend, respectively.
Leigh's intimate character studies are extremely well-defined, and by now viewers pretty much know what to expect, but he always manages to catch you off guard.
His famously collaborative and rehearsal-heavy film-making process brings fictional personalities to life with such refined nuance; you can't help but sit back and let it wash over you. Another Year is simply wonderful.
LOWDOWN
Stars: 4/5
Cast: Ruth Sheen, Jim Broadbent, Lesley Manville
Director: Mike Leigh
Running time: 129 mins
Rating: M
- VIEW