Shostakovich: Piano Trios
(Hyperion, through Ode Records)
Rating: 5/5
Shostakovich: Symphony 10
(Naxos)
Rating:
5/5
Verdict: "Shostakovich the Soviet survivor vindicated yet again on both small scale and large."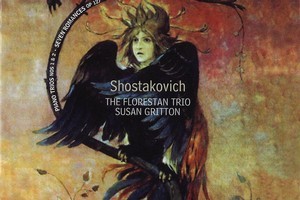 Shostakovich's two piano trios are separated by 21 crucial years. The first, written in the composer's mid-teens, is a single slice of bittersweet melancholy with the occasional sardonic spiking; the second, a vision of the pitiless horror of World War II caught in 25 searing minutes.
The Florestan Trio's new Hyperion recording of these works could not be bettered. Imagine a lean Rachmaninov as the English musicians imbue the First Trio with a Slavic sweetness, Anthony Marwood's violin and Richard Lester's violin and cello almost flirting in the corner of the salon.
Marwood's opening ghostly harmonics lure us into the Second Trio with promises of emotional intensity that do not let up until the final chord has had its say.
The wild, visceral dance of the second movement leads to a powerful lament of a Largo. Here, every one of its massive opening piano chords, marvellously resonant in this Andrew Keener production, seems to have its own story to tell.
The final movement releases grim, irresistible dances along with some passing, ghostly visions.
In between the trios, that superb soprano Susan Gritton sings the composer's Seven Romances on Poems of Alexander Blok, one of the great Russian song-cycles.
The opening Ophelia's Song is a poignant tryst between voice and cello.
Four tracks on, The Storm, with the full trio, vents fury and terror, as much for the suffering of the homeless as anything meteorological.
Vasily Petrenko's cycle of Shostakovich Symphonies with the Royal Liverpool Philharmonic Orchestra continues thrillingly on Naxos.
The Tenth, a cry of freedom after years of Stalinist oppression, is the fourth in the series and totally absorbing.
Petrenko and his fine players know just how to sustain tension over the symphony's mighty first movement, in preparation for a terrifying sprint across the minefield of the second.
The shifting moods of the third movement, its many colours realised vividly through the superb acoustics of the northern city's Philharmonic Hall, are followed by a Finale with an Allegro that proves to be a veritable cloudburst of wit and brilliance.