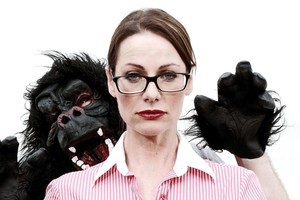 Oh, the irony. Two of the country's most prolific and successful screenwriters talk about the challenges of working in a business characterised by a lot of "we like your script - but we'll get back to you" comments.
While waiting for the nod on several projects, they jokingly devise two characters loosely based on their experiences as screenwriting tutors. An idea starts to crystallise: they'll write a play because it will be quicker to take it from the page to the stage.
Four years later, Kathryn Burnett and Nick Ward are still waiting to see their play Mike & Virginia on stage but it's a wait that is soon to end.
It has had readings and workshops, and was once even scheduled to open at an Auckland theatre, but it's only now that the romantic comedy is getting its premiere season as part of this month's New Zealand International Comedy Festival.
Burnett and Ward are behind some of the country's highest-profile television series and films, but they found there can be as much drama in writing for theatre - not that it's dampened their enthusiasm.
Ward's 2001 feature Stickmen was an instant success and he's since written the films Second-hand Wedding and Love Birds, which made a leading man out of comedian Rhys Darby. In between movies, Ward has penned episodes of Outrageous Fortune and Burying Brian.
Burnett co-created The Cult and other writing credits include Amazing Extraordinary Friends, The Lost Children, Holly's Heroes, The Strip and Street Legal. She's also an award-winning author and columnist.
Mike & Virginia was born out of good-natured rivalry about who might be the better screenwriting tutor. The duo then created two alter-egos, both competitive film lecturers who are single and on the cusp of 40.
With the characters as its basis, the writers focused on creating a story which was witty and subverted romantic comedy conventions. Burnett says anyone who sees it will leave knowing how to write a rom-com.
It follows two film-school lecturers, Mike (Will Hall) and Virginia (Lisa Chappell) who - in the best rom-com tradition - can't stand each other. He thinks she's a bitter cow; she writes him off as a Neanderthal.
Mike & Virginia was workshopped by Auckland Theatre Company in 2007. Ward and Burnett remember how nervous they felt during the first public reading, wondering if anyone would laugh at lines which had them in stitches as they were writing.
"It's one thing to write something which has you both rolling round the room laughing," says Ward, "but quite another to see if it appeals to a group of other people or if they're just going to sit there thinking, 'and they thought this was funny because?'
"With a movie, it's a big collaborative process but with a play ... you're going to get feedback immediately."
Luckily, everyone laughed and said they couldn't wait to see a full production. Comedian Te Radar was so impressed he put his hand up to direct, saying it was smart, funny and shamelessly entertaining.
But getting it on stage proved to be a difficult proposition. ATC decided it didn't quite suit its market but Mike & Virginia was picked up by another theatre for a 2009 production. Just weeks before it was due to open, funding issues forced its cancellation.
"We were so close," says Burnett, "so that really was a disappointment but people kept asking when it was going to be on stage so we knew there was a market for it."
Then theatre development programme STAMP asked if it could programme Mike & Virginia and now it's about to open with some high-profile people in the leading roles. As well as Hall, Chappell and Stephen Papps, comedian Michele A'Court plays Virginia's friend, Sally.
A'Court says the difference between stand up and acting, aside from a more rigorous rehearsal process for the latter, is that a comedian shares the joke with an audience.
"You're in on the gag. Stand up appealed to me because you write your own scripts, you direct yourself and there's no one telling you what to do which is good.
"But after 18 years, I felt I wanted a change. I did worry I might kick against being directed but working with Radar is a luxury because he's the kind of director who asks lots of questions and that helps me work things through myself."
Surprisingly for a woman who has pioneered Kiwi stand-up comedy, she admits to feeling nervous - but possibly not as nervous as the writers.
Despite the positive reception Mike & Virginia has received so far, they still won't believe it's finally on stage until they see it.
The hope is that it will get a longer season somewhere in Auckland and may tour to other parts of the country. And they are, of course, working on the screenplay.
Performance
What: Mike & Virginia
Where and when: Herald Theatre, April 30-May 7