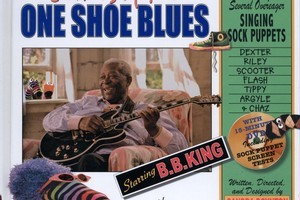 Guitar hero B.B. King singing the blues with a chorus of sock puppets? What the ... ? So you can forgive me for struggling to figure out exactly what this funny little storybook-cum-music video-meets-kids TV show is. So I tried it out on my 3-year-old daughter to see if she could make sense of it - and she loved it. Well, she wasn't so interested in the story book, but she got down with the music video/mini movie where B.B. is reclining in a big arm chair, wearing one green Chuck Taylor, as he sings the One Shoe Blues.
Right from the first strum of his trusty guitar Lucille, my little Mia was jiggling and dancing to the groove.
The appearance of Momsock - a P-funk-looking momma with orange glasses and a purple afro - and her other sock puppet sidekicks was momentarily bemusing for her, but then she laughed and got on with dancing.
"Play it again," she said. So I did. And at the end of the encore screening she looked at me and said: "Why's that man so sad?" That's my girl.
She learned more about music in four minutes from B.B., who plays the Civic Theatre tomorrow night by the way, than she would watching a whole Wiggles' concert (who also happen to be in town this weekend).
This storybook/DVD is the brainchild of children's author and songwriter Sandra Boynton and while the book's design is a little dodgy, with out-of-focus photos and a jumbled mix of material, the DVD is good fun.
For the bigger kids and grown-ups, Boynton's cheeky and droll commentary during the Making Of segment is a chuckle.
"BB had never worked with socks before ... so we were a bit worried," she deadpans.
But as you see in the video the blues man gets on with Momsock and others very well.
For something that's an odd concept, and a little confusing as a format, it's an entertaining and educational package.
With a bit of honing, Boynton might be on to something, especially if she can convince the likes of someone like Bono, Dave Grohl, or David Bowie to sing a song.
Stars: 3/5
Verdict: Odd concept, but fun for the kids
-TimeOut