Romain Duris is a big star in France, a leading man for a new generation. Peter Calder met him in Paris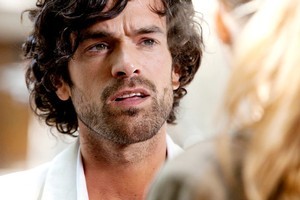 Up close and in person, Romain Duris is an unlikely heartthrob. On the edge of the sofa in a Paris hotel, he can't keep still. He jiggles and jitters, he nibbles at his fingernails. He's the opposite of the cool dude I was expecting to meet.
"I'm quite anxious, I suppose," he will say later. "I find it hard to be calm."
The success Duris has enjoyed would entitle anyone to feel a touch excited. Cedric Klapisch's The Spanish Apartment and its sequel Russian Dolls made him a major star in France, a leading man for a new generation of moviegoers whose parents followed Daniel Auteuil and Gerard Depardieu.
He burned up the screen as a gangster rediscovering his childhood passion for the piano in Jacques Audiard's mesmerising The Beat That My Heart Skipped in 2005. He incarnated the eponymous playwright in the highly entertaining Moliere two years later. Now he is opposite French pop superstar Vanessa Paradis in a film that - unlike his previous small auteur outings - raked in a respectable $65 million at the domestic box office.
In Heartbreaker, he plays the title character, a professional couple-breaker, scuttling romances to order for clients who fear their daughters are making bad marriages. He does so by sweeping his target off her feet - and walking away just before things get steamy. When he gets pretty Juliette (Paradis) in his sights, the inevitable happens.
It should hardly need saying that it's a romantic comedy - from a man with none in his CV.
"I am not sure that I prefer drama to comedy," he says, when asked about the change of direction. "It is the same work before shooting, the preparation of the character. And on the set you have to feel free. You don't want to try and be funny any more than you want to try and be serious in a drama."
Plainly he took the role seriously, hesitating for some months before accepting it as he worked with first-time director Pascal Chaumeil in rounding out his character, Alex.
"I didn't want Alex to be too self-conscious, too seductive. I wanted to make him more human with doubts and fragility, not someone who is so arrogant that he does this job just for the money.
"He likes the job. He sees it as a challenge . He's like an actor working on his role."
Duris had no early aspirations to be an actor. His first artistic love was painting, which he doesn't do now, not because he is too busy but because "I don't want to be a Sunday painter. I want to do something completely or not at all".
But he was delivering pizzas and drumming in a band called Kingsize when Klapisch spotted him on the street and offered him a part.
"In Paris at this time a lot of people were being approached like that," he says
"They did a lot of what we call 'le casting sauvage', street casting, looking for new faces. It was a time of great risk."
Again, he turned it down at first, but Klapisch persisted - for which we all have cause to be grateful.
Audiences here first saw Duris in Gadjo Dilo (Crazy Stranger), the early drama by Algerian-born Tony Gatlif, whose movies have explored his Romani (Gypsy) heritage. Duris played a Frenchman on the search for a singer his late father once recorded who ends up being adopted by the small Gypsy village he visits.
"Gatlif is unique," says Duris. "He has worked his whole life to show this culture and every time he asks me for something I will be there. Because he tells stories about people and places that you would otherwise never have any access to otherwise."
An American remake of Heartbreaker is in the works, though no casting has been announced. Duris reckons Reese Witherspoon is the natural choice for the Paradis role, but he has no opinion about his American equivalent.
He says he would certainly not accept the role if it were offered - "You can't replay a part. There's something pure that happens in this movie that you can't make happen again."
But he's said no before, only to change his mind. Who's to say it won't happen again?
LOWDOWN
Who: Romain Duris
What: Heartbreaker opposite Vanessa Paradis
When: At cinemas now
-TimeOut