When it comes to celebrating the music of Sir Andrew Lloyd Webber, who better to sing his praises - and a number of his fabulous songs - than New Zealander Delia Hannah whose star has soared thanks to his shows?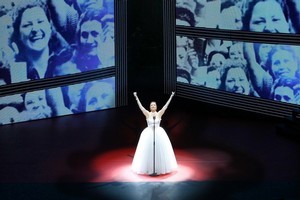 You have to envy Delia Hannah's neighbours - especially if block-buster show songs are music to your ears. Delia, who has played Fantine in Les Misérables, Mrs Johnson in Blood Brothers, Eva Perón in Evita, Florence Vassey in Chess, Mrs Peachum in The Threepenny Opera, Grizabella in Cats and Rose in Aspects of Love, admits there are days when she just has to sing.
And if the windows of the home she shares with actor husband Ross Girven and daughter Grace are open, the neighbours are treated to a sample of the voice which has made her one of New Zealand's most talented and successful musical theatre performers.
Delia, who recently completed the Australian and Asian tours of Cats playing the role of Grizabella, is now preparing to star in what can only be described as a theatrical event.
The Music of Andrew Lloyd Webber uses state-of-the-art technology to take audiences on a dazzling journey through the greatest works of the world's most successful modern-day composer.
It pays homage to many of Sir Andrew's best-loved and most-enduring productions including Starlight Express, Evita, The Phantom of the Opera, Cats, Jesus Christ Superstar, Joseph and the Amazing Technicolor Dreamcoat, Sunset Boulevard, The Woman in White and his current success Love Never Dies, a sequel to Phantom.
Delia joins fellow stars of musical theatre Blake Bowden, Alinta Chidzey, Andrew Conaghan, Michael Cormack, Trisha Crowe, Kirsten Hobbs and Shaun Rennie for the show.
Back in 1996/97, she toured Australasia with an earlier version of the production, but says the 2011 one is more theatrical, more high-tech and, of course, features more songs.
"Sir Andrew Lloyd Webber's music is enduring and iconic because, I think, he writes for himself rather than sitting down and deliberately setting out to write a blockbuster musical," she says.
"By doing so, his music is personal and strikes a chord with all those who hear it but it's more than that. You need to have a big range to perform Sir Andrew's music. He gets you singing really low and then really, really high. He wants you to be struggling, to be pouring your heart into the songs rather than just standing there and opening your mouth.
"That's exciting for an audience because it makes it more real. People wonder if you are going to hit the 'money notes'. I love singing those types of notes and I am just lucky that Sir Andrew seems to write perfect music for my voice."
Despite being blessed with natural singing talent and an ear for music, Hastings-born Delia trained as a school teacher but, in the 1990s, found herself spending more and more time out of the classroom and on stage.
In Sydney, she auditioned - on the spur of the moment - for the Australian production of Les Misérables and found herself cast in the leading role of Fantine under the direction of musical maestro Trevor Nunn.
Delia has never looked back. After 'Les Mis', she starred as Rose Vibert in the Australian version of Aspects of Love winning Variety Club and Mo awards in recognition of her performances.
Reflecting on her career so far, she says Rose has been her favourite role because of the 'grown-up' nature of the storyline and the enormity of the character.
Given the success she has enjoyed in Sir Andrew Lloyd Webber's productions, she says it's fitting that she can celebrate his work with a show on the scale of The Music of Andrew Lloyd Webber.
"I get to use myself and my voice as a vehicle for music," says Delia. "I feel as if I am a conduit for something special because there's something about music which raises the vibration of human emotions and lets the spirit soar."
The Music of Andrew Lloyd Webber
Celebrate the Magic of Music
The Civic, THE EDGE
3 - 8 May
0800 BUY TICKETS
Book online
*This article originally appeared in THE EDGE publication LIVE.