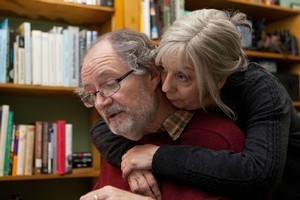 After the uncharacteristically sanguine Happy Go Lucky, the master of bleak British social realism returns to downbeat form in a film whose confusions of perspective are perhaps provocatively deliberate.
Heading an outstanding cast, Broadbent and Sheen play Tom and Gerri (yes, they have heard all the jokes), a semi-retired North London couple whose life is almost nauseatingly contented. They work just enough - she as a counsellor, he as a geologist - and pass long hours in their garden, where we can see the year of the title passing in the changes of weather and vegetable harvest. In and out of their orbit, two old friends separately flutter: Mary (Manville) is one of Gerri's workmates, a lonely, desperate fiftysomething who drinks too much, dresses too loud and throws herself at unavailable men; Tom's boyhood friend Ken (Wight), an overweight chain-smoking lush trying to pretend that he doesn't hate his life.
If this sounds like a laugh a minute, it gets worse: the death of his sister-in-law takes Tom and family north to Derby. The light switches abruptly from autumnal russet to an arctic blue-white and the emotional temperature drops as Tom's brother Ronnie (Bradley) grapples - or fails to grapple - with his son's incoherent rage.
The tone, so hard-edged and precise in this northern stanza, tends to point up the flabbiness of the main plot. It's hard not to flinch every time Mary enters the frame because you know it presages a sad story. The brave face she puts on always dissolves after too much chardonnay and it feels more voyeuristic as time ticks by.
More problematic still are Tom and Gerri's condescending asides to both Mary and Ken. Is Leigh implicating us in their smug, dissociated gazes? Or are we to see their complacency as part of the malaise, and not evidence of their separateness from it?
In an opening sequence, Gerri asks Janet (Staunton), deeply depressed and trapped in a loveless marriage, how happy she is on a scale of one to 10.
"One," barks Janet, expressionlessly. "I think there's room for improvement there," says Gerri. "Don't you?"
As insights go, it's not a stunning one. But it's about as good as the film delivers.
LOWDOWN
Stars: 3.5/5
Cast: Jim Broadbent, Lesley Manville, Ruth Sheen, Peter Wight, David Bradley, Imelda Staunton
Director: Mike Leigh
Running time: 129 mins
Rating: M (Offensive language)
Verdict: Bleak moments
-TimeOut