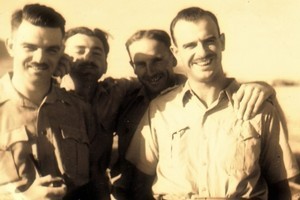 While many will be up early on Monday for dawn services, for those who prefer to stay in their pyjamas, but still pay their respects, Maori Television's Anzac Day coverage starts at 5.50am with a karakia, mihi, and a flag-raising ceremony at Devonport Naval Base, before moving to the dawn service at Auckland Museum.
Anzac 2011 - Kotahi Te Wairua (One Spirit) runs all day and includes the new documentary, Dancing In the Sky, about the life of William Rhodes-Moorhouse, the first airman to win the Victoria Cross and who had strong family ties to New Zealand. Also on Maori TV are two new docos - The Warriors of the Pacific: Solomon Islands and The Warriors of the Pacific: Papua New Guinea. From 3.30pm there are highlights from commemorations in Gallipoli; and at 7pm Judy Bailey talks to Ray Avery, who invented inexpensive lenses for cataract sufferers in war-torn countries.
Over on TV One it's also an early start at 6.25am with RSA: Remembering Who We Are, a documentary about the proud and staunch organisation that upholds the values and beliefs of members of the New Zealand Defence Forces.
One's coverage continues with a look at top wartime tunes with ANZAC Songs (7.20am), a Good Morning special from 9am, and the wreath laying ceremony at the National War Memorial in Wellington (10.30am).
On Prime, The Band (9.35pm) tells the touching story of the Signals Pipes and Drums Band who have been leading parades and marching to the beat for more than 50 years. Before this, ANZACS: In The Face of War explores what the term Anzac means (7.30pm).
Sky's History Channel has a series of documentaries from 5.30pm including War Experience: The Great War (9.30pm). Meanwhile, Anzac commemorations start early on TV3 at 5pm on Sunday with historical film Last Men Standing, about New Zealand's Italian Campaign during World War II.
LOWDOWN
Where: Various channels
When: Monday
What: A day of remembrance
-TimeOut