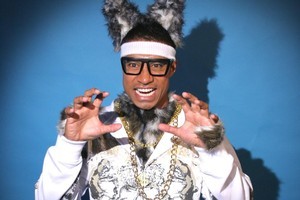 A blast of high energy theatrical vitality from a troupe of Pacific Island performing arts students clearly demonstrates the future of Auckland theatre is in good hands.
The Pacific Institute of Performing Arts, in association with Auckland Theatre Company, are presenting a school holiday extravaganza that puts da hood into Little Red Riding Hood.
The ancient European tale is emphatically planted in a never-world vision of South Auckland - made instantly recognisable through hip-hop dancers, fearsome fa'afafines, unreliable bus timetables, a kilikiti team, and endless family hassles that come from deceitful and demanding relatives.
Director Goretti Chadwick achieves a fine balance between wild exuberance and highly disciplined ensemble work. Some wonderfully inventive staging has actors turning themselves into cabbage trees, bus stops or motor cars and the entire production is infused with an infectious sense of fun.
Musical director Tama Waipara anchors the show with some marvellous choral work and superb musical accompaniment from Joseph Taouma's solo guitar often makes it sound as though there is a funk orchestra in the house.
The musical provides a showcase for the comic talents of Pua Magasiva, who has the rare ability to throw himself into intensely physical acting while maintaining the kind of control that captivates the audience with the tiniest gesture or vocal inflection.
One senses Magasiva's presence has been an inspiration for the cast who have all risen to the occasion with tremendously engaging performances. It seems unfair to single out individuals, but Litea Aholelei has a winning presence in the lead role, Paul Fagamalo shows great versatility as an all-purpose aunty and Asolemo Tofete makes a formidable grandma.
The unlikely partnership between the well-heeled theatrical establishment of ATC and an open entry performing arts school has proved phenomenally successful as the raw energy of the PIPA students is complimented by ATC's studied professionalism.
It is an odd-coupling that gives the lie to anyone who refuses to believe that South Auckland and the North Shore can get it on and make a Super City.
What: Polly Hood in Mumuland
Where: Mangere Arts Centre - Nga Tohu o Uenuku
When: until April 30