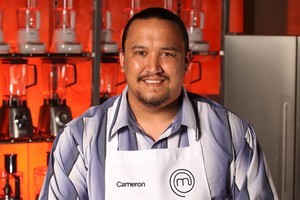 It's not just MasterChef fans clamouring for a Cameron Petley triumph - he's the advertisers' dream winner as well.
Media commentators have picked a Petley win, saying it would generate major commercial spin-offs.
TBWA chief executive Dave Walden said the Putaruru chicken farmer had the required "Kiwi qualities" of being modest and unassuming.
"We like to see reflections of ourselves in these characters," he said.
But Petley, a 32-year-old father of five boys, will be able to cash in on his popularity regardless of where he finishes.
"He shows that we can do anything we turn our hands to. He is young, unassuming and uncannily good at whatever meal he cooks."
Walden predicted that Stu Todd, the other quietly-spoken bloke, would be a good opponent.
"Stu is a slow burner. He has all the skills and would be a worthy finalist."
Cindy Mitchener, a director of ad space-buying company MG Communications, said most people wanted good-looking, funny people to reach the finals of reality shows.
She predicted Todd would reach the final but Jax Hamilton could be a wildcard and may also reach the final.
Regan Cunliffe, founder of TV website throng.co.nz, had a less commercial take.
"Ratings-wise, you want to see polarising characters in the final. You want half in one corner and the other half barracking for the other guy."
He picked Nadia Lim to reach the final against Petley.
Leading chef Sid Sahrawat, who owns Sidart fine dining restaurant in Auckland, said Petley, Lim and Michael Lee were the most talented chefs left.
"Nadia is innovative; she tries to do different things whereas Cameron is natural, he cooks from the heart.
"They go with their instinct and it shows."