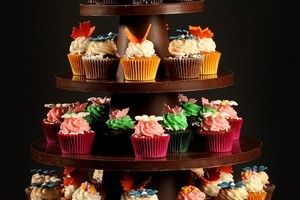 The six remaining MasterChef contestants face their most technical challenge yet tonight - the chocolate tower of terror. The cone-shaped dessert is surrounded by five tiers of cupcakes.
Cake-maker Mathew Metcalfe warns the challengers anything could go wrong.
It could collapse if the chocolate is cooked at the wrong temperature or chilled too quickly and air bubbles could cause cracks in the cone or discs.
The contestants must also bake perfect cupcakes in 3 hours.
Jax Hamilton says: "Today will be the day you will see people cry, tear their hair out, lie down on the floor and pray to their gods."
Last week's winner, Stu Todd, says: "I thought what part of that do you want me to cook, 'cos obviously you can't want me to cook all of it 'cos that's crazy."
MasterChef, 8.30pm, TVOne, tonight