Two stories unfold in Sarah's Key, a film adaptation of a bestselling book about French Holocaust secrets. Dominic Corry talks to author Tatiana de Rosnay.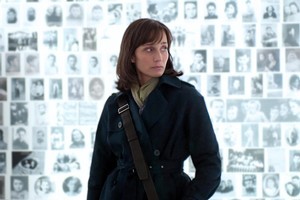 Equal parts heart-wrenching and enlightening about the horrors of the Holocaust, the film Sarah's Key has been understandably described as a "French Schindler's List". But while Steven Spielberg's film told a true story in a macro context, Sarah's Key - out now - uses a real event to tell a fictional, albeit intensely personal, story of courage, hope and remembrance.
The incident known as the Vel' d'Hiv round-up occurred in German-occupied Paris on July 16 and 17, 1942. French police arrested more than 13,000 Jews, including 4000 children, who were forced to endure inhumane conditions at the Velodrome d'Hiver (The Winter Velodrome), a cycle-racing venue that was converted into a makeshift detention centre. The prisonlers were then moved to an internment camp, before being shipped to Auschwitz for extermination.
In Sarah's Key, Kristin Scott Thomas plays a French-American journalist named Julia Jarmond who, decades later, investigates the round-up article. She hones in on the story of a young girl named Sarah, who was 10 when the raids occurred. Delving further into Sarah's fate, Julia discovers her husband's family has a disturbing connection to the round-up.
Shifting between contemporary and historical scenes, Sarah's Key delves into a difficult subject with heartfelt compassion and clarity. The film is a faithful adaptation of the best-selling 2007 book of the same name by prominent French author Tatiana de Rosnay. Speaking from France to promote the film, de Rosnay helped contextualise her motivation for telling the story.
"I felt such pain when I realised this had happened in my city, just 15 minutes from where I lived, yet nobody seemed to know about it. I wanted to write this book so we would never forget the Vel' d'Hiv children. I gave [Julia] the pain and suffering that I felt when I discovered what happened to them."
Contrary to everything one hears about the treatment writers receive when their books are adapted to films, de Rosnay was included all the way through, which helped her with the process of letting go for the adaptation.
"Director Gilles [Pacquet-Brenner] and co-screenwriter Serge [Joncour] made me feel confident. They trusted me and let me be part of the project from the beginning."
The film has been a huge European success, and has helped solidify the memory of the Vel' d'Hiv round-up. "For a long time we've had to use the precious testimonies of Holocaust survivors to get the message through to a younger generation. Unfortunately those survivors will not be around forever. If movies and books stick to the truth, they can get the message through."
Sarah's Key in cinemas now.