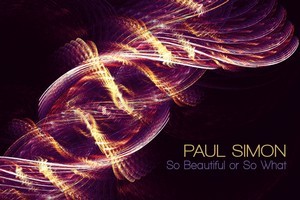 In the liner notes Elvis Costello says this album should be counted alongside the finest of Simon's career (now reaching almost 50 years).
You could argue that on the music alone, as Simon weaves through hints and influences from Indian and African music, soul, blues and doo-wop, and includes samples from the gospel church of the famed Atlanta preacher Reverend Gates.
It's an album of constant musical surprises, all in service of upbeat pop rhythms or open-hearted ballads with echoes of There Goes Rhymin' Simon, Still Crazy After All These Years and Graceland (not the least on Love is Eternal Sacred Light with its line about a bomb in a marketplace).
At nearly 70 Simon has mortality on his mind, and many of these songs address the inevitable, or reflect on life and love, but he brings wry humour to these ruminations: "After I died and the makeup had dried I went back to my place" he sings on The Afterlife, only to find "you got to fill out a form first" before entry to the hereafter.
There's compassion (the lovely Questions for the Angels), dislike for radio pop and talkback (he settles on the gospel station) and in the witty Rewrite (with beautiful kora by Yacouba Sissoko) he's a screenwriter trying to turn a story into cash.
Beauty, humour, snappy music, compassion and love. Age becomes Paul Simon.
Stars: 5/5
Verdict: Simon looks his maker in the eye with humour and reflection
-TimeOut / elsewhere.co.nz