Sylvain Chomet eschews 3D in favour of a more sentimental animation, which fits his personality and the subject of his latest film perfectly, writes Helen Barlow.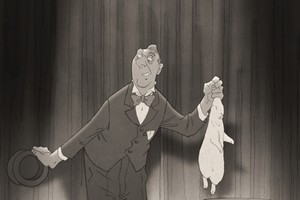 French animator Sylvain Chomet, best known for his 2003 Oscar-nominated feature film, Belleville Rendez-Vous (The Triplets of Belleville), is a born eccentric. Old-fashioned in his inclinations, right down to his 1930s-style glasses, he explains how he doesn't like to fly. Well, in aeroplanes at least.
"I just hate the way people are treated," the 47-year-old says. "I hate airports, stewardesses and all that. I just don't feel at ease. They take your life like you are nobody and they put you in a metallic thing. It is fast, but in the train I get to watch through a window; I walk on to a train without checking bags."
He does, however, love airships.
"It's a nice way to travel, all that room!" The mistake with the original zeppelins, he says, was that they used highly flammable hydrogen instead of the safer, more expensive helium. "They should make a comeback," he insists.
Chomet has opinions on everything - a man who knows what he wants.
He is very precise in his artful hand-drawn 2D animation, even if he struggles to find people who can work as well as he would like. When he made his latest masterwork, The Illusionist, in Scotland, he had to import people from France. "There are plenty of animators in London but they either didn't want to move to Scotland or they were finding work with the explosion of 3D animation," he explains. "2D animators are a dying breed."
The Illusionist is set in Edinburgh, where the Paris-born Chomet was then living with his English wife and two children (he now lives in the south of France).
Based on a 50-year-old script by Jacques Tati and set in 1959, The Illusionist tells of an ageing magician and music hall artist, who has become an anachronism in the Parisian entertainment scene. When he travels to other locations in search of more appreciative audiences, he meets an innocent girl whom he takes under his wing. The film is biographical not only in the sense that the girl is based on Tati's daughter, Sophie, but in the fact that Tati had been a music hall artist and magician before making his cinematic mark with Monsieur Hulot's Holiday, Mon Oncle and Playtime.
"Sophie saw my drawings and thought that it would be a great match," Chomet explains. "She also didn't want a real person to play her father's role. I never met her personally and I never talked to her and she died four months after she gave the authorisation. That is quite special, that someone who is not there anymore, who I never actually met, gave me this script, which was very precious to her. I found it really touching that this beautiful script was her father's gift to her."
Even if Chomet relocated the bulk of the story from Prague to Scotland, the story was tailor-made for his way of thinking. After all, 2D animation is now considered old-fashioned, like the music hall was then. Still, this is not the case in France, where animators, including Chomet, are part of the country's thriving adult comic book tradition, which is based on the work of artists like Egon Schiele, Toulouse Lautrec and the German Expressionists.
Hence Chomet's mixing his comic book experience with his love of 1960s Disney movies - including The Aristocrats and especially 101 Dalmatians - leads to something that is very special, and unique.
"There was a certain period when Disney animators adopted the technique of drawing with a pencil and then photocopying it so you can see the lines," he explains. "It's very vibrant, very alive, to do that before you use the paint. I like to see drawing on screen."
Chomet sees no reason why animated films cannot be appreciated by adults. "We've all been children before, so why wouldn't animation speak to us? I think animation has been restricted and frozen for a very long time, because the people who created this beautiful artform, Walt Disney Studios, started by saying that animation was for children, so told fairy tales For a long time they were probably the only ones able to do films like that because they are so expensive. I remember when I started wanting to do animation for adults, producers would say, 'Oh you want to do pornographic films!' There was a lot of misunderstanding out there."
Interestingly, after Chomet made his short live-action film with Yoland Moreau for 2006's Paris, I Love You - he did the Eiffel Tower segment - he now wants to make a live action feature with the actress. "I really enjoyed working with actors because of the surprises they bring," he says. "Jean Pierre Jeunet, Tim Burton and Terry Gilliam all came from animation and now it's my turn. It takes me seven years each time to make an animated film and it's just too long."
-TimeOut