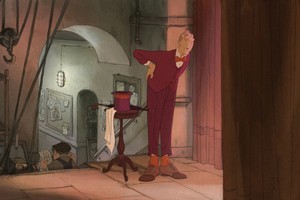 Chomet's follow-up to his idiosyncratic The Triplets of Belleville is a wistful animated valentine to the days of the variety entertainers that is also a kind of love story.
It derives from an unproduced screenplay by the legend of French screen comedy, Jacques Tati (Mon Oncle; M. Hulot's Holiday), and there's an interesting back-story: in 2000, the script was given to Chomet by Tati's daughter, Sophie Tatischeff, who was the inspiration for it. But
her son - Tati's grandson - has taken violent exception to the film, which he calls "a "grotesque, eclectic, nostalgic homage to its author".
His assessment is not far wide of the mark though that's not to find fault, but plainly it opens family wounds: Tati abandoned Sophie and her mother early and the film he wrote and could never bring himself to make is both reportedly and obviously an expression of his remorse.
It's title character, whose name, like Tati's, is Tatischeff, is the spitting image of Tati's M. Hulot: lanky and lugubrious and with a gift for risky physical comedy.
He's a magician whose fortunes are fading in Paris so he heads for London looking for work.
His quest leads him to an isolated Scottish village where he excites the attention of teenage Alice, not least because she believes he has conjured for her a pair of shoes that we know he has bought.
She follows him to Edinburgh and the (sweet and chaste) relationship that develops is that of a father to a slightly headstrong and fancy-prone daughter.
The film's draughtsmanship is richly detailed, so textured that you sometimes feel like stroking it.
If the story is slightly disjointed - and at times frankly obscure - it's no matter. This is less a landmark than a cinematic curio, but it's charming and finally, rather moving. The best stories about fathers and daughters tend to be like that.
LOWDOWN
Stars: 4/5
Animated film Director: Sylvain Chomet
Running time: 71 mins
Rating: PG (violence)
Verdict: Charming and moving
-TimeOut