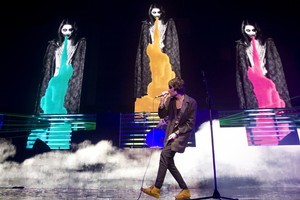 With just over two weeks until New Zealand Music Month, organisers are getting excited about a string of events with more high-flying stunts than ever.
Simon Woods, who leads the project for The New Zealand Music Industry Commission says the music celebration has grown from an industry-led event to something largely controlled by the public.
Spurred by the success of Opshop's hop around the country last year, Woods has organised four concerts on a plane in association with Air New Zealand's Grabaseat.
Opshop set a New Zealand record by performing 10 gigs around the country to celebrate the release of their first 2010 single Pins and Needles, and Grabaseat provided the plane that got them to each of the venues.
This year, Opshop frontman Jason Kerrison will perform a solo gig on a plane travelling to Queenstown on Mothers Day (May 8) and the energetic Kids of 88 perform a Grabaseat show at the end of the month (May 28).
The Feelers will perform from Christchurch to Auckland on May 14 and Greg Johnson goes to Invercargill for the Bluff Oyster festival on May 21.
Last year's Opshop tour was largely a media stunt, but these flights are open to members of the public. A handful of lucky fans may win tickets by turning up to a warm-up gig at the airport the plane is departing from with their bags packed.
As well as the flights, May is jammed with gigs by Kiwi performers of all genres.
Julia Deans and Anna Coddington will embark on a nationwide tour - not on a Grabaseat plane - and a concert in Wellington on May 20 will celebrate Maori music and will have a strong Christchurch thread to it. Christchurch itself has lost many of its venues but is still high on the list of priorities for tours, Wood says.
Shayne Carter has also announced a string of gigs supported by friends playing songs from his former bands the DoubleHappys, Dimmer and Straitjacket Fits.
And Ponsonby music venue The Whiskey - which plays homage to legendary Los Angeles club The Whisky A-Go-Go - will celebrate NZ Music Month with a marathon of 40 acts performing over 20 nights.
Opening the series on Tuesday May 3 is the Peter Urlich Sextet, and Dave Dobbyn will close the series with support from his Christchurch-based band, the Dukes.
Other participating artists include Anika Moa, Avalanche City, Barnaby Weir, Bic Runga, Don McGlashan, Jan Hellriegel, People of Paris and The Jordan Luck Band.
Meanwhile the Auckland Philharmonia Orchestra joins forces with saxophonist and flautist Nathan Haines, roots musician Warren Maxwell of Little Bushman, Trinity Roots and Fat Freddys Drop and composer John Psathas for one night on May 3.
Other events held throughout the country will be listed in TimeOut's gig guide and on the Music Month website.
-TimeOut