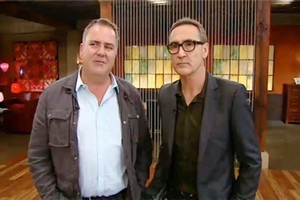 Oh deary, deary me. Look, we know reality competitions are as much about the people and the dramatic story lines as they are for the skill being tested.
But sometimes you get the feeling that some contestants think they know better than the producers and the judges. And then those people aren't there any more.
So it was with Auckland credit controller Anthony McEntee, who was sent home from last night's MasterChef.
His argument with the judges is the sort of barney we viewers long for. TV gold.
In MasterChef, the judges Josh Emmett, Simon Gault and Ray McVinnie maybe do have a little more experience in the kitchen and could be worth listening to.
So when Antony made the bottom two beside Cameron Petley-from-Putaruru, we knew that Cam could've cooked his beef into shoe leather and he'd still stick around to fight another day.
I'd dearly love to have sat in on the planning sessions for this season's programmes, but clearly the brief is slightly borrowed from Intrepid Journeys - chase them around the world and eventually someone will buckle.
This week's Indian challenge was won or lost not so much on the mystery meat - contestants were randomly assigned goat, beef or lamb - but on their understanding of spices and flavouring.
Some contestants had obviously paid attention to the constant reminders in the Friday night master classes that you cook with your eyes, ears and nose, but a worrying number of cooks didn't know their cumin from their coriander seeds.
Some did not make use of their mortars and pestles to grind up their spices, nor cook them off to bring out the flavours.
It is always the simplest dishes that bring a person down.
Gutsy Nadia Lim overcame her struggles with the perfect rice, poor Cam and Michael Lee did not.
There was a good chance for Simon's scriptwriters to pop in some puns ("the world's fastest Indian", "spice things up in MasterChef" - didn't see those coming).
This week it was the underdog who won through - the usually solid, non-panicky Stu Todd. It was his turn for the pantry mind-blank, he only just squeaked in garlic to his roti to qualify as the vegetable dish and he truly expected to go home.
The judges played on his misery with loads of glum looks, long drawn-out pauses and dramatic negative comments prefacing, natch, their eventual raves ("bloody delicious", "bang on", "unbelievably sensational" etc).
Yet again, Jax's winning combination of dishes proved that the more you eat and smell and remember good food, the better your own food will be.
Despite the inevitable yuks at the expense of her London origins, and her professing to not cooking Indian that often, she could pull the delicate balancing of flavours of sweet and hot from her memory banks, and produce the winning meal.
That's the sign of a terrific cook, and what we'll truly be expecting from the final six as the going gets tougher.
Let's hope it will be all about the food and less about the drama from now on.
Catherine Smith is a member of the Food Writers' Guild and deputy editor of Weekend magazine.