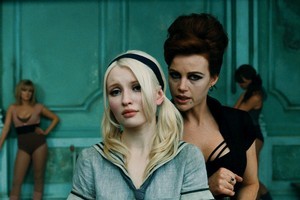 This typically slick and gorgeous outing from master visualist Zack Snyder (300, Watchmen) excels during the action scenes, but falls a little flat in the plot department.
Australian actress Emily Browning (Lemony Snicket's A Series of Unfortunate Events) plays a Babydoll, a spirited young girl who is sent to an insane asylum by her evil stepfather. All of a sudden, the asylum becomes a dance school, in which Babydoll's mad skills attract much attention as she bonds with four fellow inmates/dancers.
Resolving to escape before a scheduled lobotomy, Babydoll and her four friends must undergo several high-octane trials - including slaying a dragon and taking on giant samurai robots - which all appear to be in her head.
Sucker Punch is Snyder's first film not based on existing material and, even though the various aesthetics are somewhat derivative, I found myself appreciating the fact this wasn't a sequel, remake or TV show adaptation.
The dramatic scenes between the huge set-pieces do get a little tiresome but the actresses manage to keep a straight face.
The action scenes are amusing but it is undermined by the ambiguity regarding the reality of what is happening. Ultimately though, I like Snyder's decision to keep things on a metaphorical level.
If you can look past the reactionary responses to the film's pronounced sexuality, there's definite fun to be had here.
Stars: 3/5
Rated: M
Running time: 110 minutes.
Out now
- View/Herald On Sunday