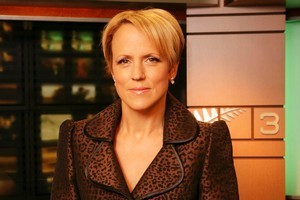 Prince William could leapfrog his father to the throne, suggests TV3 anchor Hilary Barry as she prepares to travel to London for the royal wedding.
And on that, she agrees with her TVNZ rival Mark Sainsbury, who will join Wendy Petrie to host the state broadcaster's coverage from Westminster Abbey.
Barry won plaudits for her confident and reassuring manner during nine hours of rolling news coverage on the day of the Christchurch earthquake, and the network has entrusted her with anchoring the wedding coverage this month.
Sainsbury is an experienced political journalist who previously served as TVNZ's London correspondent.
But both will cover the wedding with the rather treacherous suspicion at the back of their minds that William may be the next king.
"I think eventually we will be a republic," Sainsbury said yesterday. "It really doesn't bother me one way or the other when William will be king - but there is a question of what will happen to Prince Charles."
Yesterday, Barry fondly recalled her first royal wedding.
"I was 11 when Prince Charles married Diana and I remember my father buying a video recorder so we didn't have to get up in the middle of the night to watch it," she said.
When she was 13, she said, she went to an event at the Basin Reserve during Charles and Diana's 1983 visit. It was on that trip that a 10-month-old Prince William crawled for the cameras.
Twenty-eight years later, Barry seems unenthused by Prince Charles. "I think it's highly likely William will be our King one day - perhaps he'll even be next in line?"
TV3 and TV One will both build up to the wedding through the evening of April 29, as Kate Middleton leaves an inner-London hotel and drives down the Mall, past St James' Park and along Whitehall to Westminster Abbey.
The Herald on Sunday will carry the official portrait of the newlyweds, along with a special commemorative magazine, the next day.
And the big question on everyone's lips after that: to which remote corner of the old Empire will Wills whisk his new bride for the honeymoon?
"I think it would be lovely for the couple to honeymoon here," said Hilary Barry. "But given the time of year, I suspect they'll be after a slightly warmer destination."
Like Barry, Wendy Petrie has worked as a reporter covering Royal visits. With the longevity of his grandmother and great-grandmother, she suspected William might have to wait a long time for the throne. "Yes, someday I see him as King - although the royals do seem to live to a great old age.
"I don't envy their position and the intense scrutiny they're under - being followed 24/7 by the paparazzi and glare of the global media," Petrie said.