Anna Hutchison left Go Girls to take on a few roles overseas but, as Jacqueline Smith reports, she's happily slotted back into the third series of the hit New Zealand show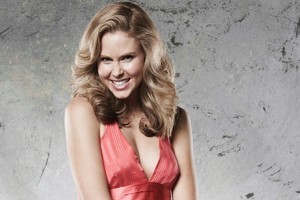 Even though she hasn't been on the show for the best part of two seasons, Anna Hutchison is still very much a Go Girl.
She was the pin-up when the show launched in 2009, and despite leaving in the second series, was still name-dropped whenever the show was mentioned.
Sure, that controversy around her raunchy scenes in Aussie crime drama Underbelly boosted her tabloid appeal, but she is also a younger, less-pouty advertisement for the North Shore than Rachel Hunter - and her hair is just as shiny.
Her character - Amy Smart, the princess of Takapuna - was also the glue that brought characters Britta, Cody, Kevin, Brad and "witchy" Angelina together in the first season.
Later, it was Amy who introduced the group to her friend Olivia, played by Esther Stephens, who joined the cast in the second season and took Hutchison's place on the promotional material.
Amy, the most strong-willed, feisty and snappily dressed of the characters, was the one who insisted the Go Girls gathered for a round of goal-setting and tequila at the start of each season.
The pursuit of these quests has driven the storylines for three seasons now. And no doubt the fourth season will follow the same pattern.
Amy's quest in the second season was to bring a little philanthropy to her life, and when her new German boyfriend Hans asked her to join him helping out in poverty-stricken areas of Africa she leapt at the opportunity.
The real reason Hutchison upped sticks was to fulfil her dream of appearing in an American scary movie.
Filming clashed with Go Girls so she quit the show and headed for Canada to film thriller Cabin in the Woods. It was a tough decision but she's pleased she did because that led her to crossing off yet another goal from her list of things to achieve.
"I wanted to be a lead in a New Zealand show, I did that. I wanted to do an American film, I did that too, and at the top of every list is be happy in what you do and there is a lot of happiness in my life at the moment," she chirps.
Spending time with the cast and crew of Go Girls rates very high on the happiness stakes, so Hutchison leapt at the chance to be re-written into the story this third season, and hopes to be involved in the fourth.
Just as her character slipped back into life on the Shore when she made a surprise appearance on Tuesday, Hutchison says returning to the show was like returning home.
"We were hanging out a lot anyway and they really are my best friends, the writers on the show and the crew. I had been seeing them for the past couple of weeks, so just slipped right back in."
Her friends, Bronwyn Turei and Jay Ryan who play Cody and Kev, have done a good job of keeping her up to date with the gossip, she says.
"They are such a cool group of people. I can't even tell you how fun it is to work with them. Everyone's down to earth, no one is demanding a red carpet be rolled out when they enter the dairy to buy their toilet paper. Not yet anyway. We are pretty cruisy."
Because she has been in Sydney since February, Hutchison has missed out on the gatherings at one another's homes to watch Go Girls on Tuesday nights. She can't even watch it on TVNZ on Demand over there, so is looking forward to a marathon viewing-session when she is back.
At the moment she in the throes of filming Australian period drama series Wild Boys, in which she wears corsets and frills and rides horses.
The latter took a while to master - she was never a pony club girl at school.
"But I thought I knew how to ride horses and then I hopped up there and was like, no, I definitely don't know how to."
That's another thing to cross off her list. So is a business degree, which she is working through incrementally. She managed to cram a paper in between moving to Australia, filming a few episodes of Sea Patrol and starting Wild Boys.
"There was a date at the very start of January and a date at the end - so I was like, 'oh, I could get a really wicked tan or I could do an economics paper at summer school'. So I did that - and then I was off filming during one of the mid-year tests, so luckily I passed, and it has encouraged me to do more, so hopefully I'll do a writing course for a couple of months. There's just so many things to do."
Hutchison admits she works herself very, very hard but says she is also pragmatic about the projects she lands and those she misses out on.
Last year she thinks she auditioned for "over a million things".
"We were doing pilots in LA and you would get a part and then be like, oh my visa hasn't come through. I was just testing. And sometimes you are just not a big enough name. It's a very strange industry and when it's working well, I think just roll with it and also surround yourself with wonderful people.
"I have a wicked team around me who work very hard as well, and a wonderful family and friends. And I think a little bit comes down to luck. It's the same for everyone," she says.
She considers herself pretty lucky right now.
"I've got a pretty wicked life at the moment, it's very, very cool. I've got sore smile muscles from smiling so much which is not a bad thing at all."
LOWDOWN
Who: Anna Hutchison
What: Has returned to Go Girls
When and where: TV2, Tuesdays at 8.30pm.
-TimeOut