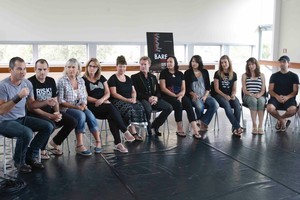 The cancellation of the Christchurch Earthquake Benefit Concert that was to be held last Friday was mooted in a Herald on Sunday story, spurred by online carping, as proof that Aucklanders don't care about Christchurch.
Oh really? That's odd because everywhere else you look we've been getting ourselves happily over-entertained in the name of charity.
The performance of Toa Fraser's play Bare at the Civic with Sam Neill, Rhys Darby, Keisha Castle-Hughes and Lucy Lawless, among others raised, $83,000.
Last Saturday's To Christchurch With Love, a star-studded variety show at the Bruce Mason Centre starring Paul Potts, Dame Malvina Major, Elizabeth Marvelly, and many more, raised $115,000.
The figure from the Foo Fighters show at the Auckland Town Hall the week before last isn't in yet but will likely be in the same range. And there's been everything from local pub gigs to stand-up comedy marathons, all creating the happy sound of cash rattling in buckets.
So why didn't Aucklanders flock to last Friday's extravaganza? Charity fatigue? Too busy planning to get stuck in traffic? We'd miss our Friday night drinks?
No, it was because The Christchurch Earthquake Benefit Concert was simply a bad idea. Bad venue, bad night, a line-up with no real drawcards and a incohesive bill which ranged from two dance music zones, a "soul funk & blues zone" - featuring, among others, well-known singer of all the above, Suzanne Prentice - and many more which didn't quite live up to their descriptions.
It was, in short, a bit like an Easter Show entertainment bill without the ability to escape to the rides or eat candyfloss.
Of course, the organisers meant well. They even trusted folks when they said on that sacred altar of personal commitment, Facebook, that they would be there. So far as publicity went ... well the organisers had arranged a publicity stunt a few days before showtime - then cancelled for reasons unknown, sheer ridicule possibly.
That involved having a helicopter pick up a "flying saucer" to fly it across Auckland. Local radio stations had been asked to do their best War of the Worlds as it flew past to land at the showgrounds.
That part was the brainchild of Matt Bowden, well-known party pills magnate and, who in his musical guise of "Starboy" was on the bill too.
Bowden was quick to call me when the show was still a goer after I fired off questions about the confusing mathematics in the publicity and how they planned to make a profit to donate.
He said he was effectively underwriting the gig himself, along with many others' donations of time, venue and equipment. Bowden called later when they pulled the plug.
He sounded relieved. So was I. Because if the show had gone ahead the resulting disaster would have put a dampener on any other Queen City showbiz benefits for Christchurch.
In a way, Aucklanders cared enough to stay away, so those buckets could keep rattling.
-TimeOut