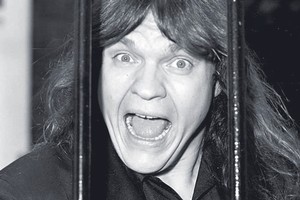 Veteran rocker Meat Loaf had the mother of all meltdowns during an episode of Celebrity Apprentice this week - over a missing bag of art supplies.
The Bat Out Of Hell singer stars in the current series of the reality TV show alongside a motley crew of other celebs, including Point Break actor Gary Busey.
During Sunday's episode of the show (broadcast in the US) the teams were assigned a task which involved creating their own artworks to sell in a gallery.
All sounds innocuous enough....until Meat Loaf (real name Michael Lee Aday) spots that his art supplies are missing, and is seemingly convinced that one of his teammates has given them the sticky-palm treatment.
Pacing the floor, he eventually spits his dummy in the dirt. The problem? He "bought those motherf*****g sponges!"
Now there's a T-shirt slogan if ever there was one.
He then squares up to Busey, who stands before him, slack-jawed, like a dazed bunny in the headlights. "No. I have my receipt," he counters.
The singer then barks at Busey, "You look in my eyes, I am the last person in the f*****g world you ever f*****g want to f**k with!"
Things got so heated he had to be physically restrained by teammate Mark McGrath.
When he simmered down, the show delivered the mother of all punch-lines - the art materials were sat in a bag in the corner of the room all along.
Busey is vindicated. Cue grovelling apology from Meat Loaf: "I'm so embarrassed by it, and I'm so upset by it. I truly am very sorry."
Busey replied, "I accept your apology, Meat. Let it go, I forgive you."
Meat Loaf then revealed that he's been a slave to the anger demon in the past. He said: "I've gone to anger management, I've done that."
Probably time for a refresher.
Something to embrace when you're knee high to a grasshopper: Learn to share your colours - art supplies in particular.
Watch the high (melo)drama below:
Once bitten, twice wed?
Amy Winehouse has been a tad quiet of late. A bit too quiet.
Could it be that she's too distracted by wedding plans to resume her headline-hogging duties? Well that's the rumour doing the rounds today.
Word is Winehouse is all set to trot down the aisle and get hitched to her current fella, British director Reg Traviss.
Traviss is quoted as telling The People: "Amy and I have been talking about getting married, we are looking to book something very soon.
"I am thinking of getting something sorted in the next six weeks for the end of the year."
He adds: "I love Amy very much, she's a wonderful, talented, lovely girl."
Let's hope he's a keeper.
Traviss also told The Sun last week that Winehouse is "throwing herself into work" - yes, her lesser-spotted new album.
"We've been together nearly a year now and we're very happy. Amy's doing well, she's fine. She's healthy and happy," he said.
He added: "She's still writing and recording stuff for her new album. She's really throwing herself into it."
Speaking of weddings...
Cop an eyeful of Reese Witherspoon in her wedding garb as she tied the knot with Hollywood agent Jim Toth last week.
The Water for Elephants star swapped vows at her Ojai, California ranch on March 26.
Check out the duelling covers of Hello! and People.
Congratulations to them both!
Buble burgled
One more wedding-related yarn, and we're done.
While Canadian crooner Michael Buble and new wife Luisana Lopilato were getting hitched last Friday, their love nest was being burgled. Charming!
TMZ reports that burglars raided the singer's Buenos Aires pad while the couple were getting wed in Maximo Paz, a resort outside of Buenos Aires.
According to the website, the robbers covered up the security cameras and snipped the telephone lines. No word on what they lifted.
After being told about the burglary, Lopilato told local reporters, "I will not let this ruin the happiest day of my life."
P.S. Check out their wedding snaps here
Blogger's Briefs
This lot just in...
* Justin Bieber sets his mother's hair on fire
* David Hasselhoff dating Welsh factory worker
* For Sale: The nude Kate Winslet Titanic sketch
* A Royal prenup for Prince William and Kate Middleton?
* Leonardo DiCaprio gets soaked for $5 Million
* Green Lantern TV spots debut
* Did Charlie Sheen lure Miley Cyrus back to Twitter?

* Olivia Wilde on Justin Timberlake dating rumors: "We are just friends"
* Jeremy Clarkson denies affair claims
* Ke$ha Wants to skinny dip with Britney Spears
* Bee Gees star Robin Gibb hospitalised
Blogger Bites Back
* Read more celebrity news and gossip from Myrddin Gwynedd (MG) here