The Paris Wife by Paula McLain
Virago, $34.99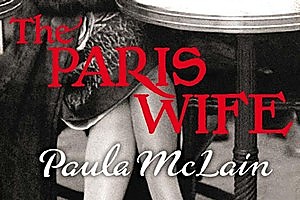 I can imagine that, were I a Hemingway nerd, I may find bones to pick with this book. However, I loved it almost unreservedly. Before reading The Paris Wife, my knowledge of the great 20th-century literary figure was pretty much limited to his partiality for bullfighting and heavy drinking.
A fictionalised account of Ernest Hemingway's early years of struggle as an unpublished writer, The Paris Wife is told mostly through the eyes of his first wife, Hadley Richardson, and so becomes very much her story, too. A solid, dependable American girl, she is dazzled by Hemingway, marries him and sets sail for a new life in jazz-age Paris, where she moves rather awkwardly through a bohemian circle of literary expats such as Ezra Pound, Scott and Zelda Fitzgerald and Gertrude Stein.
The couple have the most ridiculous pet names for each other - Tatie, Tiny, Hem, Feather Cat - and spend a lot of time reminding each other how happy they are when the truth is that, traumatised by his wartime experiences and tortured by his efforts to write "one true sentence every day", Hemingway is hardly an easy man to be married to. Hadley, too, has her issues - she is lonely in Paris, emotionally dependent on her husband and aware she doesn't really fit in with his crowd.
And she longs for the conventional - a settled household, a family - all things he fears will hold him back creatively.
This was a time when women were expected to put their own ambitions and talents aside and support their husbands. Hemingway has a monstrous ego and everything she does must feed his talent. So, when Hadley loses his entire oeuvre on a train and, shortly afterwards, falls pregnant, things go bad.
Hemingway was married four times and we know from the off that Hadley was only ever his starter wife. But when the end begins his betrayal is still shocking.
This isn't a flawless novel. McLain's bid to balance the story by taking us inside Hemingway's mind occasionally interrupts the flow of Hadley's voice, and that jarred for me.
Still, I can see why she felt she needed to do it. Without showing us so intimately his pain and its causes (things that Hadley may well not have been fully aware of) the great man would have come over as a total rat.
All in all, McLain has done a sterling job of turning history into fiction and bringing alive a fascinating era and a love story that deserves re-examination.
The Paris Wife left me wanting to read more of Hemingway - and his books.