Prepare to cringe as NZ episodes of America's Next Top Model finally make it to our screens. By Deborah Hill Cone.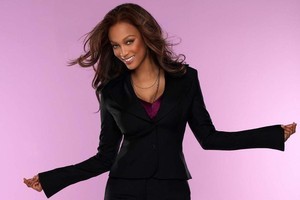 Even if you are not vaguely interested in fashion or lip gloss or Tyra Banks, it is intriguing to watch upcoming episodes of America's Next Top Model just to see how New Zealand was portrayed to several million viewers in the United States after the show came here in 2009.
Suffice to say, I'm not sure it will be boosting tourism numbers - unless our Yankee friends are keen on visiting a bunch of rustic tribal Hobbit-ish sheep-shaggers with inclement weather and transport problems.
Don't worry about the actual model competition. It's all old news, anyway, as channel Four on Tuesday is screening cycle 14 and they are already on to number 16 in the US so the winner's five seconds of fame evaporated months ago.
But if you must know, there are only six contestants left. They are the fat girl, the homesick drip who says "Oh My Lanta" at everything, the black chick who looks like a man, the black chick who doesn't, the frizzy-haired white-trash girl and the one who is a dead-ringer for Denise Richards.
As to New Zealand's starring role, if we were a contestant for America's Next Top Tourism Destination, we would be voted off.
"I thought New Zealand was right above Canada or something like that. I had no idea. Oh My Lanta, " says Jessica, the drippy one.
The ladies' first experience here is a visit to "sacred mountain" Mt Eden. "So we walk up into this beautiful grassy volcano and there are these tribal men there with these little butt flaps. I had never experienced another culture like this. It scared the crap out of me," says the Denise doppelganger - and she hasn't even met Colin Mathura-Jaffree yet.
The girls are then sent on "go-sees" where they visit some famous New Zealand designers, and some famous New Zealand traffic jams. The impression of Auckland is that it is a rainy dump with boring clothes and a congestion problem.
"It's a green light, why isn't anyone moving?" asks one frustrated model who has coped with New York traffic but is reduced to a puddle by Ponsonby Rd. "It looks just like Arkansas," says her rival, praising with faint damns. "New Zealand weather is so weird. My hair is really bad," remarks another.
I'm not sure who advised America's Next Top Model on what to shoot while they were here - Federated Farmers, perhaps? - but apart from traffic jams it all seems to involve tractors, sheep and falling into cowpats.
The New Zealand-designed clothes certainly didn't get much of a look in. American fashion guru Andre Leon-Talley even sneered ungraciously at the Lycra sausage casing from a New Zealand designer which one of the girls won as a prize. It really was vile, so where was the glamour? Where was Karen Walker? Where were the cool people? Why were the models staying in, cough, Takapuna? It proves not very fabulous. In fact, it is fab-less. In the end, Tyra tells drippy Jessica she needs to be more edgy and interesting. "You've got to do frowns, or wide-eyed, or let the fire within you come out - you've got to bring something to this face that is memorable." Oh My Lanta, she could say the same thing about New Zealand.
America's Next Top Model plays on Four, Tuesday at 7.30pm.
- View/Herald on Sunday