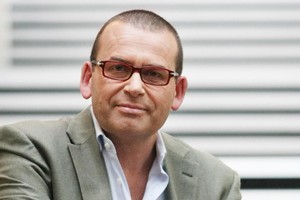 "It feels great to make a long-term commitment to MediaWorks," Paul Henry told me on Friday. He had earlier that day signed his contract and admitted it had happened a lot sooner than he expected.
Last week he was just focussed on getting his autobiography to the publisher on time. I understand it is being ghostwritten by journalist Paul Little.
"I'm very excited about being back on radio and television," he said. Henry will host RadioLive's drive show from July 1 and is expected to get his own television show at TV3 and other special one-off TV projects.
The popular broadcaster who was dumped by TVNZ last year is happy to have joined its rival MediaWorks.
To say that it has ruffled feathers at TVNZ is an understatement. A flurry of messages landed in my Blackberry inbox on Friday from various media members aligned with the network, hissing and seething that the opposition may have scored one over them by appointing Henry.
The truth is they have. MediaWorks' gain is definitely TVNZ's loss. Say what you will about Henry, he rates.
But TVNZ had their chance. Last month they may have entertained notions of Henry returning to news and current affairs and replacing Mark Sainsbury on Close Up, but they didn't step up with a good enough offer.
While TVNZ's Rick Ellis and Anthony Flannery were keen to win Henry back into the company fold, perhaps they couldn't swing board chairman Sir John Anderson around.
It has been suggested it was Anderson, who has personal links to Indian cricket, who was not in favour of keeping Henry after the Sheila Dikshit saga. If this is true, questions need to be asked about the nature of board interference in management decisions at TVNZ.
But that's all in the past for Henry. He's happy to be working at a place without the drama - god knows he brings enough controversy of his own. The polarising broadcaster says he is thrilled to be working at RadioLive and TV3.
"Clearly MediaWorks is a company with dynamic ideas and whose ethos seems to fit very well with not only my style and attitude towards broadcasting, but to life in general.
"To tell you the truth Rachel, I'm often accused of being 'edgy' but I'm actually just honest! And honesty is one of the key trademarks of MediaWorks."
-Herald On Sunday / View