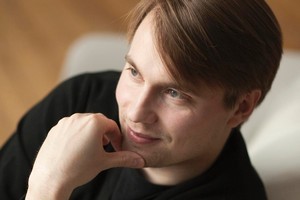 A concert titled Apotheosis needs to be initiated with some ceremony and, on Friday evening, the New Zealand Symphony Orchestra obliged with a Lilburn Processional Fanfare.
Penned in 1961 for Victoria University's graduation ceremony, this frankly occasional piece was given out with gusto and grandeur by Pietari Inkinen and his musicians. So much so, it was difficult to believe that this fairly conventional score dates from the same year as the composer's final symphony.
Beethoven's Emperor Concerto was inevitably grand, considering the size of the orchestra, yet both conductor and soloist, Saleem Abboud Ashkar, through their sprightly tempi and the pianist's winning way with pedal-brushed passagework and crisp phrasing, ensured a lightness of spirit.
The Adagio might have been the missing link between a Mozart slow movement and Chopin Nocturne. Ashkar's rubato lines almost melted on the ears, especially when pizzicato strings behind them made one wonder just what the whole concerto might have been like with a more modestly proportioned orchestra.
Inkinen has impressed us with Mahler before and his Fourth Symphony showed what magic is possible when a conductor who observes every nuance of Mahler's intentions comes together with a suitably responsive orchestra.
The sprawling first movement, described by one of the composer's contemporaries as a "stylistic monster that collapses under the weight of ingenious detail", did no such thing. No detail was sacrificed, and we were always engaged by the sinewy symphonic struggle.
The Landler second movement, with Vesa-Matti Leppanen deftly switching violins, emphasised the jagged and the modern while Inkinen transformed the third into an expansive meditation.
The finale should have been the high point of the evening. Yet Anna Leese only seemed to relax totally in the final verse of the song, when Saint Cecilia and her musicians hold sway.
One felt for the soprano, however, brought on stage before the 22-minute slow movement, meaning distracting applause and a long wait for her solo turn. Other singers have made their entrance during the 30 seconds of introduction that the composer provides, creating an apotheosis to remember.
What: New Zealand Symphony Orchestra.
Where: Auckland Town Hall.
When: Friday.