Kristin Scott Thomas' new film exposes a dark chapter in French wartime history.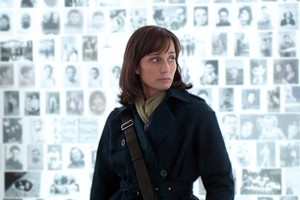 Given her recent portrayals of John Lennon's Aunt Mimi in Nowhere Boy and a woman released from prison in I've Loved You So Long, there's no doubting that Kristin Scott Thomas is at the top of her game.
"Oh, I hope I have got a bit further to go," Scott Thomas scoffs, bemused by the suggestion. "I would like to think that I have got more game to get."
Still luminous at 50, the Dorset-born actress has lived in France since the age of 18 and was ensconced in the lap of luxury, in a mansion near the Luxembourg Gardens with her husband, Francois Olivennes, one of France's leading obstetricians and fertility specialists. The couple had been together 18 years when they divorced in 2005. They have three children, Hannah (born in 1988), Joseph (1991) and George (2000).
Scott Thomas seemed like the lady of the manor at the time, so one imagined her characters in historical dramas like Gosford Park and Easy Virtue must have come naturally to her.
Given her meaty roles since the divorce, however, she may have been feeling creatively stifled.
The actress, who once admitted, "I have Catholic guilt, then I learnt Jewish guilt from my husband's family," is now starring in Sarah's Key, the screen adaptation of Tatiana De Rosnay's best-seller, which draws on the little-known round-up of 13,000 French Jews conducted by the French police on behalf of the Nazis over three days in July, 1942.
"I wasn't familiar with the book at all," admits Scott Thomas. "The screenplay was lying around at home and my daughter noticed it. She told me the book was fantastic, that I had to read it. So that is a good recommendation. I think a lot of young people read it."
Like the book, the film, directed and co-written by Gilles Paquet-Brenner, follows two interwoven storylines in the past and present. The first shows the horrendous event as it occurred, though it's very much in the background to the human story of a 10-year-old girl who locks her younger brother in a cupboard for safekeeping before being hauled away with her family.
In the present, Scott Thomas plays an American journalist married to a wealthy Frenchman, who, in researching the event, discovers that her husband's family took over the residence of a deported Jewish family.
"It was a difficult role because I'm sensitive to the subject matter," admits Scott Thomas. "It was particularly hard going to the Shoah Holocaust Memorial in Paris. In fact, it was one of the most difficult things I've ever had to do. I'd never been there and I was afraid that my own overwhelming emotions would damage my portrayal of this hardened investigative journalist."
As usual Scott Thomas delivers a mesmerisingly controlled performance and Paquet-Brenner says he couldn't have made the film without her.
"We wanted someone who would be credible as basically half-French and half-American, and as far as French audiences are concerned, Kristin is part of our world."
The bilingual actress also worked a lot on her American accent, even though she had played Americans before.
"People in America are very sensitive to accents," says Paquet-Brenner. "She's a very serious actress, she works very hard. It's not like she has so much talent and it just happens."
Paquet-Brenner, has made five films, including Pretty Things, his well-received 2001 debut starring Marion Cotillard. Sarah's Key, though, is his most personal film yet - his grandfather was a victim of the Nazis.
"When I was prepping the movie, [my mother] had just received the official act and date of his deportation and the date of his death, which was only two days later, and he was in very good shape.
"I asked her what happened and she told me the story of the poison in his ring. The next day, the story was in the film, and when Kristin is at the Shoah Memorial and she stops in front of the wall, it's to read my grandfather's name.
"But people don't pay to see my family therapy. But if the movie works on an emotional scale it's because it's filled with reality. I talked a lot with Kristin about it and we wanted it to be real."
LOWDOWN
Who: Kristin Scott Thomas
What: Sarah's Key
When: Opens at cinemas April 14
-TimeOut