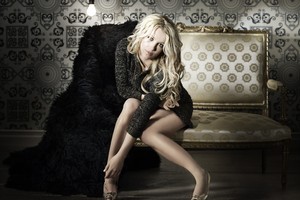 Well, she's well and truly hung up the schoolgirl costume.
Britney Spears' seventh studio album - released more than a decade since her debut Baby One More Time and three years since her flop-of-a-comeback Circus - sees her shed all those guises and play the woman she is now. That is, a grown-up mum who still likes to party. Hard.
Britney has been dragged through the media for all her oopsies more than the average celebrity. Babies, break-ups, baldness, we have seen it all. Now she's in an abusive relationship with Jason Trawick. Or something.
This album feels like her attempt to bring the focus back to her music. She does it with a thump, an unce and a bit of a rap too.
Hit-making producers Dr. Luke and Max Martin (and a few guests including Will.I.Am) have let her loose on the dance floor, sweating her way back up the charts.
She knows she has Katy "the tease" Perry, Lady "the crazy" Gaga and staunch, "man-beaten" Rihanna to contend with. But she seems determined to show the girls who was there first so she channels these strong women and throws herself on to a DJ's decks (after all the tabloids tell us Britney likes a dance party more than all these women put together).
Britney's gamine coo has been her trademark since she emerged in crop tops and flares. It's still there, but is now overshadowed by Mr DJ who keeps the album afloat on a range of kick-starts and even a bit of rumbling dubstep.
That's right, her single Hold it Against Me channels those dubstep maestros who are wooing the kids these days. She pulls out her best M.I.A rap, in in How I Roll, a catchy track crammed with percussion.
Claws come out on (Drop Dead) Beautiful featuring Gabi and the bass batters Big Fat Bass featuring Will.I.Am.
Is there a Toxic? Yes, the pulsing "woah-oh-oh-oh" of Till The World Ends would sit nicely against Lady Gaga. And then there's a couple of self-ingratiating ballards, like Criminal, (which employs pan pipes) where she admits her tendency to fall for the bad boy.
Spears calls this her best work yet. It's definitely her best work in recent years. It will attract airplay, earn her new fans, please those who have supported her through the bad times and inevitably serve as a mixing pad for DJs in clubs the world over.
But perhaps we should be applauding the guys in the credit list, more than the "Femme Fatale" on the cover.
Rating: 3.5/5
Verdict: Not such a circus after all
- TimeOut