The frontman, also Nicole Richie's husband, is heading here with the band, which features his guitar-playing twin Benji, to play at the Hamilton V8 Supercar Championship. TimeOut caught up with Madden between tucking his kids - 2-year-old daughter, Harlow Winter Kate and 15-month-old son Sparrow Midnight - into bed and heading out on his next tour.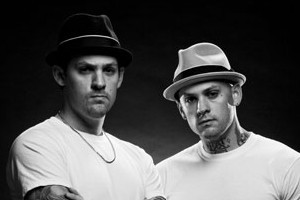 Your kids must miss you when you are on tour.
Yeah, I've actually been away from them more than I have been with them which kind of makes me sad. They definitely don't like it, my daughter doesn't want me to leave.
Hasn't it been like that since they were born?
Harlow was on tour with me for the first year of her life. I had her in the tour bus with me but then as she got bigger and when we had the little man on the way we had to really settle down. And by that point I was away for a year and a half. But you know, we work it out. It's my job and it's how I make a living for them. Nicole's at home with them, and when she has to travel for work we schedule it around my breaks so one of us can always be with them. It's tricky but we do it.
Does Nicole ever design you anything to wear?
No, she doesn't do men's clothes but I'll tell you what, I'm terrible at dressing. I would wear the same thing all the time but she will pack my suitcase for me. I'm actually pretty lucky, she's very sweet in that way.
I see the kids made their way into your latest album Cardiology.
Yeah, my whole perspective on life has changed since I had kids. There's a song on there called Harlow's Song which is a lullaby I wrote on my keyboard and then my brother heard it and was like, we have to record that. In general I think there is a very positive vibe on this record.
A bunch of your new songs are about drinking, partying and girls. Good Charlotte might have grown up a lot in the past decade, but are you still doing that?
Sometimes of course. Between me and Nicole, I go out far more. I like to go to the bar and have a drink with the fellas, especially when we're on tour. I don't go as big as I used to - there are some records that are all a bit blurry.
Your choruses are so catchy, do you take a while to whip them out or do they just come to you?
They kind of just come. It seems like they are always catchy but we grew up loving catchy music and so that's the way we naturally go. Like It's Your Birthday we wrote in five minutes, we literally just banged it out. We went back to the studio and it ended up being the first single. It's like, I knew that song was going to come back to haunt me.
- TimeOut