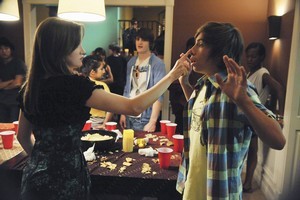 Like the title of the show that is launching their acting careers, Kay Panabaker and Jimmy Bennett are no ordinary young people.
The pair play teenage siblings Daphne and J.J Powell on No Ordinary Family - the TV2 show that has been described as Heroes meets The Incredibles. For the uninitiated, the story follows a very ordinary nuclear family who inherit superpowers. Daphne can suddenly hear everyone's thoughts and J.J is suddenly a genius. The powers couldn't have arrived at a more inconvenient time in their adolescent lives. High school is not a friendly place when you are different.
While Bennett, now 15, and Panabaker, 20, have been on the acting circuit for some time - Panabaker had recurring roles of CSI - No Ordinary Family presented them with their first leads.
Bennett, who has emerged as quite the wry comedian, says his role as an uber-geek has seen him beating off the female fans with a stick.
Meanwhile Panabaker takes a more serious tone, saying she believes the show has what it takes to entertain and reflect the realities of adolescence and suburban families.
Articulate and mature, Panabaker is very unlike her character, who would rather blend in with the crowd than be someone special - like a superhero.
In real life, Panabaker finished high school at 13, went to university and graduated with a Bachelor of Arts in History, and then decided to pursue her passion.
It's all about having a back-up plan, she says. Showbiz is brutal. Her fall-back career, should she be deemed too short or fat for a role, is to become a history teacher, she says. That way she can instil her love of learning in others.
But her first passion - for the moment anyway - is acting. That's what drove her to get through her studies so quickly. Her passion has driven her on to film and television sets, and her parents have had no choice but to support her.
She says her role as Daphne has given her plenty of food for thought. While the character seems to think her ability to read minds is more a curse than a power, Panabaker says she would quite like to know what people are thinking. It would help her sort out the genuine people from the backstabbers.
"But Daphne's a teenage girl so she really struggles with it. I mean she's going through high school. People are mean enough as it is and now she has to deal with what they really say behind her back as if they're saying it to her face and that hurts.
"I don't think she wants any power. I think she just wants to pretend that her family doesn't exist as they're crazy people and she can just live her own life," she says.
Panabaker had a very different high school experience.
"I didn't really care about having a social life when I was younger. Work was my fun time. I love set. I love working. And it was so ingrained in me that you finish high school, you go to college, and that's just the natural progression. It just went at a faster pace for me than for most people.
"I went to my high school prom, just at a younger age, but I didn't have to deal with the nastiness. I didn't have to deal with the drama that goes on in high school. I could just focus on my studies and my school and I enjoyed that. I love learning. It's the one thing I miss most about my life now, that I don't learn as much."
Meanwhile Bennett, whose character pores over physics books and whips out 27-character words, has a science and vocabulary lesson every time he is on set.
"Dictionary.com comes in handy," he says.
As the show has progressed, J.J has become less afraid of using the words that spill out of his mouth, and Bennett says he is also getting his head around them. "It's more natural than being really 'wow' with it every day," he says.
Some of the show's other actors, like Autumn Reeser who plays scientist Katie Andrews, and former star of The Shield Michael Chiklis who plays the family's dad Jim Powell, have admitted their roles have tapped into some of the Comicon fans. But Bennett insists he gets more girls than geeks contacting him through the likes of Twitter.
"They say keep it sexy. I tried to look that phrase up in the dictionary and it's nowhere to be found," he deadpans. "They just want me to keep it sexy in everything."
LOWDOWN
Who: Jimmy Bennett and Kay Panabaker What: Play J.J and Daphne Powell on No Ordinary Family
When and where: Thursdays 8.30pm, TV2.
-TimeOut