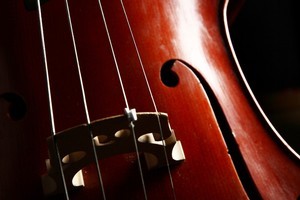 Auckland Chamber Orchestra looked good on stage at the Raye Freedman Centre, the group's new home for the 2011 season.
Previously, in the Town Hall concert chamber, one was only too conscious of empty seats in the auditorium; now, in the friendly ambience of this Epsom venue, one had the impression of a full house supporting an orchestra that plays a vital role in the city's musical community.
Conductor Peter Scholes made his customary introductions.
Being a successful film composer himself, he spoke eloquently on behalf of the Nino Rota Concerto for Strings which would open the programme.
This shrewdly written piece, dating from the mid-60s, could have been penned for the ACO.
Along the way, things might have been smoother here and there, particularly with a constant edge to the violin tone, but a boisterous, circus-like Finale that could have slipped from one of Rota's Fellini scores emerged unscathed.
The soloist was Santiago Canon Valencia who only last year carried top honours at the prestigious Beijing International Cello Festival.
Playing the Shostakovich First Concerto that scored him his Chinese success, Valencia proved to be a phenomenon.
Always alert to what was going on around him, efficiently delivered by the orchestra, the 15-year-old cellist brought out a telling streak of paranoia in the first movement, provided emotional solace with the elegiac song of the following Moderato, and was fazed not at all by the demands of the great Cadenza.
Last year, in a masterclass, the distinguished cellist Li-Wei Qin was rendered almost speechless by Valencia's brilliant account of a Kodaly Sonata.
Let us hope we can see and hear more of him before, inevitably, he leaves our shores for further studies and a distinguished career.
After interval, the first movement of Mozart's great E flat Symphony was a generally despairing experience, thanks to distinctly sour violins.
By the Andante, Mozart's scoring, bringing the ACO's orchestra's fine woodwind players to the fore, saved the day, meaning that the glorious Finale was every bit as sunny as Mozart intended it to be.
THE LOWDOWN
What: Auckland Chamber Orchestra.
Where: Raye Freedman Centre.
When: Sunday.