Minuit's frontwoman launches a new project, her début book. By Paula Yeoman.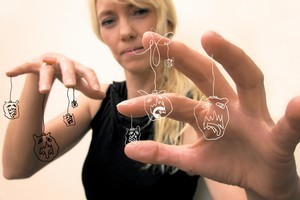 Singer Ruth Carr has relied heavily on feelings, thoughts and concepts in the 13-odd years she has been the frontwoman of Kiwi band Minuit.
And, as she swaps music for literature on her latest project, I Felt Like A Fight, Alright? she finds herself turning yet again to - you guessed it - feelings, thoughts and concepts.
Carr started work on the book of one-liners, poems, lyrics and short tales after her Minuit band members Paul Dodge and Ryan Beehre completed the EP Dance Music Will Tear Us Apart last year.
"I kind of had my hands off that project so I thought maybe I could do a little side project, too."
Inspired by her love of books - "I love most things that are dying out, it would seem," she laughs - Carr started sifting through the bits and pieces she had written or sketched over the years.
"I didn't write anything new, I just collated things like serviettes with notes written on them; all of those kinds of things - drawings and stuff."
The Wellington-based singer is well-known for her bubbly banter and quirky stage persona. But I Felt Like A Fight, Alright? delves beyond what New Zealanders think they already know of her and gives a sneak peek into what really makes her tick.
So much so, just weeks before the book's release, she pulled out the black marker and went on an editing spree.
"I suddenly thought, 'Oh shit, other people might read this'.
"There were certain things I didn't want people to know. I realised there was stuff I needed to keep to myself," she says.
"I guess I got quite blurred with the line, but I also wanted to be honest as well."
Carr hasn't thought too much about the moment people get their hands on the book.
And it's unlikely she will read the reviews because she knows not everyone will agree with the way she sees the world. And that's just fine with her.
"There are so many arguments against the things I think, and I'm sure some people will be 'Oh my God' but, you know what? That's okay, too."
Ruth Carr's début book, I Felt Like A Fight, Alright?, is out now.
- View/Herald On Sunday