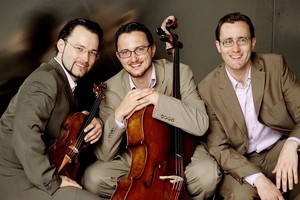 Auckland audiences have developed a special affection for the Eggner Trio, and it's not hard to see why. Touring this country for the third time, the three Eggner brothers launched Chamber Music New Zealand's 2011 season with their customary musical and couturial panache.
The first half of the programme travelled from the tango bars of Buenos Aires to the folk legends of olde Russia.
Well ... almost ... as the town hall fell distinctly short on ambience for Piazzolla's The Four Seasons of Buenos Aires. The tango ministrations of the Eggners could not be faulted, however; Georg and Florian played as passionately as if the melodies were those of their homeland while Christoph dealt out the sort of flamboyant piano glissandos that make applause inevitable.
Ian Munro's Tales of Old Russia hints at a whole musical tradition that has gone before. Mussorgsky and Rimsky-Korsakov are referenced in titles, more recent composers in the music itself, especially Stravinsky in the final Death and the Soldier.
The Australian composer has created some picturesque and beautifully crafted music. The Eggners clearly appreciated the chance to glitter in the first movement and enchant us with translucent harmonies in the second.
For the finale, Georg and Florian playfully added some Shostakovian clippity-clop with hand percussion to complement their brother's resolute piano march.
After interval, the three men returned, their red shirts replaced by purple. Doubtlessly occasioned by the perspiratory energies expended on Piazzolla and Munro, I preferred to see this change of apparel as a royal tribute to Saint-Saens' rarely-heard E minor Trio.
Brilliantly cascading piano underscored the iridescent rhythm play of the French composer's opening movement, while the five-beats-to-a-bar scherzo was insouciance itself.
The fourth movement Landler, rendered lebhaft as well as the stipulated grazioso, rippled towards the Ravelian.
After we had been dazzled by Saint-Saens' virtuoso finale, brimful of fugal cleverness, a breezy encore from the young Viennese composer Sascha Peres took us touring again, by scurrying around a certain famous Sabre Dance and having immense fun in doing so.
CHAMBER MUSIC
* What: Eggner Trio
* Where: Auckland Town Hall
* When: Friday