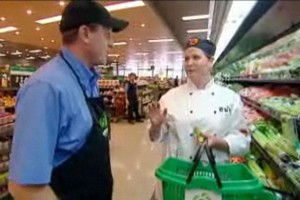 MasterChef producers have admitted cooking up a fake courgette crisis in last week's episode - provoking an angry backlash from fans.
They purposely understocked the vegetable at judge Simon Gault's fine dining Euro restaurant in Auckland's Viaduct Harbour and sent finalist Michelle Berry to buy more from Countdown, the show's main sponsor.
Berry went to the chain's Grey Lynn store when rival company New World's Victoria Park shop was much closer. The stunt was blasted by viewers on MasterChef's Facebook page.
Niki Bailey said: "That plug for Countdown was OTT, especially the way the produce manager came and explained what Michelle should be looking for in a courgette. Do they think we're dumb and wouldn't see through it?"
Claire Weggery said the plug was "cheesy and really uncalled-for".
After speaking to the show's executive producer, Darryl McEwan, from Imagination TV, TVNZ released a statement confirming the courgette purchase was a setup.
"This was a simulation of a very real situation that any chef will tell you can and does happen in restaurants all the time and it was a crucial test of how they could cope under pressure," it said.
"It's a reality of commercial television that shows are funded through advertising and sponsorship. Without this we wouldn't be able to make the shows that our viewers enjoy."
In the episode, the supermarket's produce manager walked over to give Berry advice on buying the best courgettes.
Her absence increased pressure on her and partner Cameron Petley to complete their dish, juniper-crusted venison with parsnip puree, fennel and courgette.
Luke Schepen, public affairs manager for Progressive Enterprises, which owns Countdown, said the supermarket was asked to supply staff for the episode by the show's producers.
"We were asked to be involved in this segment when it came up during filming and were happy to take part and provide one of our team members to chat to," Schepen said.
"We believe it's putting creative cooking back on the agenda for Kiwis and we're proud to help serve up MasterChef New Zealand."
Media commentators said TV shows were increasingly blurring the lines between advertising and storylines but that could backfire.
Martin Gillman, of media agency MG Communications, estimated Countdown had invested $1 million in sponsoring the top-rating show but said blatant product placement was dangerous territory.
"It can have a real negative impact on the advertiser, viewers can rebel. The networks are desperately looking for new ways to raise money for local programming.
"They are pushing the boundaries, but in this case they may have overstepped the mark. Consumers have the ability to switch off."
David Walden, chief executive of ad agency TBWA, said: "If they rang ahead to say 'polish the courgettes' then it's not a good look.
"Television is all smoke and mirrors. They have got to try to have a few twists and turns. The public are no fools."
Writing on throng.co.nz, reviewer Karyn Fisk said: "I know that there is sponsorship, that shows need it to be able to actually happen but there is a point where it is too in your face and overshadows the content of the contest."
No one from TVNZ or Imagination TV would be interviewed on the issue.