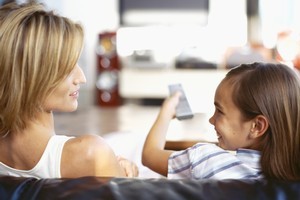 Broadcasters have agreed to new voluntary restrictions on advertising to children but the Greens say there is still too much.
ThinkTV, a group representing the major free-to-air television broadcasters, has updated its restrictions on when ads can be screened and included restrictions on advertising foods targeted at children.
Health Minister Tony Ryall and Broadcasting Minister Jonathan Coleman welcomed the revised Getting it Right For Children booklet.
"The total restricted and advertising-free zones per week across the three major free-to-air broadcasters will double to 101 hours and 30 minutes a week since the classification system was introduced in 2008," Dr Coleman said.
The booklet's restrictions include:
* No advertising in pre-school television programming times;
* limited advertising in school-age children's television programming times, with a maximum of 10 minutes per hour, plus two minutes of appropriately classified station promotions; and
* advertising must be clearly recognisable as such and not part of the editorial content of children's programmes.
There are also rules around spin-off products, repetition, competition and sponsorship.
Ads for food or drinks in school-age children's programming have to be approved by a classification system before screening.
Green Party broadcasting spokeswoman Sue Kedgley said the voluntary restrictions favoured the advertising industry, not children, and seemed to be principally designed to stave off regulation.
"If the industry group was serious about protecting kids from advertising they would not allow advertising at all during school-age television programming times."
Also, research showed most children routinely watched television outside of children's viewing hours.
Ms Kedgley was also concerned that the guidelines allow those with a vested commercial interest to have the final say regarding advertising of unhealthy foods.
"The method used by ThinkTV to verify a particular food or beverage aimed at children allows the industry to ignore the expertise of health professionals.
"TV advertisements influence children's food preferences and often encourage children to consume foods high in sugar and fat."
- NZPA