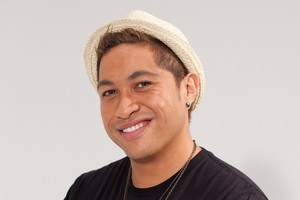 For 30 years Kiwi kids have grown up with the skits, competitions, and shenanigans of What Now?
Presenter Charlie Panapa, 29, can't imagine life without the show and says: "It's such a Kiwi institution."
What Now?'s return from the summer break was delayed three weeks because of the Christchurch earthquake which rattled the studios - and the crew - on February 22.
Panapa says he is itching to get back into it as the show has been off air for almost four months now. It wrapped in November although it returned for a Christmas special.
What Now? is filmed out of Whitebait Studios, based in Addington, far enough away from ground zero to escape the quake relatively unscathed. But some of the crew also contract for CTV and did not escape when the building collapsed.
This week on the show, Panapa and co-presenter Gemma Knight will tell the story of St Paul's School in Dallington, which was badly damaged by the first earthquake and relocated to Cathedral College on the other side of town.
The What Now? team followed the displaced children and trained them for the Weet-Bix triathlon, but during filming Cathedral College was damaged.
"It's been quite scary for kids who have had to move schools and relocate to different parts of the country," Panapa says.
As well as being tribute to the victims of the quake, the show is marking its 30th birthday.
Panapa also turns 30 later this year and says he thinks it's an age to celebrate what you have achieved and get excited about what you face in the next 30 years.
"It's a milestone to say the least," he says.
The presenters will open Sunday's programme with a Hairspray meets Glee "singing, dancing extravaganza".
It will later introduce some new games, and new presenters, who will appear live, stationed at some mystery locations.
There's a big prize for the viewer who can guess their location.
What Now? fans can also enjoy a new season of The Erin Simpson Show, which returns to TV2 on weekdays, starting on Monday at 4.30pm.
LOWDOWN
When: Sunday, 8am
Where: TV2
What: Now 30
-TimeOut