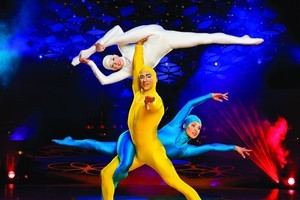 Cirque du Soleil is returning with its fifth show to play in Auckland, but in a production that marks two firsts. The forthcoming Saltimbanco, in late August, will be the first of the Cirque shows to use Vector Arena rather than the tents which have been the venues on past tours.
And the show itself is the oldest of the Canadian company's productions, the first show to put Cirque du Soleil on the international entertainment map.
It is now 19 years old and it is coming to Vector from August 25 to September 4.
"I guess you would call it the classic Cirque du Soleil show," says Findlay Taylor, general manager for the Cirque's arena division.
New Zealanders were introduced to the famous circus outfit when Alegria came to Auckland in 2001. That was followed by Quidam (2005), Varekai (2007), and Dralion (2009).
Translated from Italian, the word Saltimbanco means "jump on a bench".
Taylor describes the show as "livelier than Alegria, more rocking soundtrack and brighter colours." It has the same high-level acrobatics that impressed audiences 10 years ago including the artistic bicycle, Russian swing, and the dual trapeze. The fanciful, boisterous story centres around an imaginary city that celebrates its diversity.
This time, Cirque du Soleil is moving the performance from the Grand Chapiteau big top to Vector. Taylor says this comes down to cost and time. It takes 10 days to set up a Big Top, from opening the doors of the truck through to opening night. The average assembly time for an Arena show is eight hours.
Every piece of equipment is built to travel, Taylor says.
Cirque du Soleil now runs a number of shows in custom-built casino-theatres in Orlando, Macau, Tokyo and Las Vegas where the Cirque franchise now extends to Beatles and Elvis Presley-themed extravaganzas. Another is opening soon at the Kodak Theatre in Los Angeles and there are 10 touring shows.
Saltimbanco is travelling with 102 people, 53 of which are performers hailing from 20 different countries.
- TimeOut