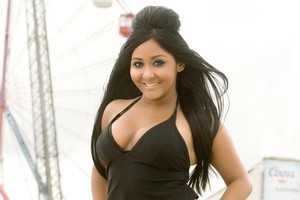 Is it possible for a doctor to prescribe you some comfort TV? If you go to seek professional advice because you are feeling consumed with ennui after watching wall-to-wall coverage of earthquake, tsunami and nuclear disasters, can they forego the Prozac and instead suggest you watch Fashion Police for a serotonin hit?
Could they give you a prescription for Jersey Shore to cure your trauma? (Actually, Snooki might induce it.) Or, failing that, some soap opera?
The individual treatment will depend on whatever you find soothing in a time of crisis, but needless to say it is probably the kind of television which may star Charlie Sheen and in which no one will mention liquefaction. My advice is to seek out this type of anti-inflammatory escapism - let's face it, it's unlikely to be found on the BBC Knowledge channel - and apply frequently between news bulletins. The doc's instructions may also say: To be taken with food.
This has to be good for your psychological health. Because, let's face it, if ever there was a week when you felt like you needed a cleansing sorbet from brutal stories of tragedy and heartbreak, this was it.
We all have our favourite consoling shows. New Zealand's Hottest Home Baker! Wives of Rock! Jersey Shore! shouted my Facebook friends when I asked for their shameful TV addictions. It is hard to generalise, as one person's treasure is another's trash, but I find a show which manages to be stupid and clever at the same time is good. Anything that is very familiar also helps.
Personally, Shortland Street is my cuddly blankie. The characters change frequently but, then again, they don't really. There is always the fruity party-girl nurse, a loveable flake, a hunky doctor, a few bitches, a motherly figure and a narcissistic monster. Who inhabits these roles changes - Matt Minto as the execrable Isaac Worthington is the current psychopath - but the stereotypes don't. Watching Shortie St, you can kid yourself that the more things change, the more they stay the same.
My other go-to show when down in the dumps is Fashion Police on the E! Channel. This is a programme in which four people sit and critique the clothes celebrities wear on the red carpet. There is nothing remotely redeeming about it from an intellectual point of view, but it is a delicious treat because of the bitch plastic surgery disaster host Joan Rivers. Here's Rivers on a heavily pregnant Natalie Portman: "She's such a lady, even if her waters broke it would be a drop of Perrier. When my waters broke my dog drowned." Rivers on Cate Blanchett's bobbly Oscars dress: "The little pimples, it's got a disease, it should come with ointment. She looked hotter playing Bob Dylan."
There is also a whole other genre of comfort viewing which I find most life-affirming: anything posh and English. Re-runs of Jeeves and Wooster on the Arts channel are absolutely spiffing, old chap, but at a pinch I can make do on assorted channels with Midsomer Murders, Miss Marple, Heartbeat or Doc Martin. For some reason, upper-class twits seem to cheer me up.
So, once you've had your news fix on this site, make yourself a cup of tea and go and fix your eyes on some telly trash. Trust me, it'll buck you up. Doctor's orders.
-Herald On Sunday / View