Award-winning Aussie artist Washington's début album is pop with attitude. By Paula Yeoman.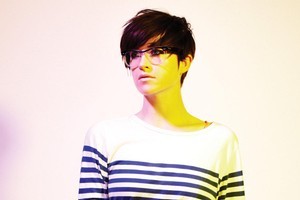 If the biography that accompanies the début album for Megan Washington - or Washington as she's simply known - is to be believed, the Australian singer-songwriter "weighs as much as her keyboard could punch out your Dad".
And, having had the privilege of chatting to Washington over the phone, I have absolutely no doubt she could.
The 21-year-old - who blitzed last year's Aria Awards with five nominations, and walked away with Best Female Artist and Breakthrough Artist - has a fire in her belly.
She is feisty yet funny, staunch yet sweet, and just as she has done in Australia, she is about to steal the show here with her début album, I Believe You Liar.
It's fundamentally a pop album, but this is pop with attitude.
"The classification that sits best with me is eccentric, passive-aggressive pop - I think that's quite a faithful description," she quips.
Trained at the Queensland Conservatorium of Music, Washington is a keen storyteller who takes inspiration from pretty much everything she sees.
She warns that it's not unusual to see ideas for songs scribbled all over her arms.
"At the moment 'skeleton key' is written on my left arm because I was thinking about how music is like a skeleton key.
"You can get in and out of anything, like a feeling, or a mood, or an emotion, or a city. You can use music as a key to do all that stuff."
Washington says it is the simple act of relating to others that is a recurring theme in her work.
"I'm interested in the notion of connectivity and there being a correlation between everything," she says.
She is also a self-confessed word-nerd.
"I love puns and I love interesting rhyme and alliteration."
She views her songs as "really wordy, twisty, complicated key-changing sons of bitches."
No, there's no doubt at all. Given half the chance, this pint-sized Aussie musician could pack a real punch.
I Believe You Liar is out now.