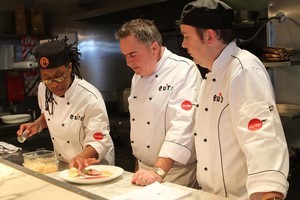 No chef works on his or her own. As well as the batterie de cuisine there is a battery of cooks and bottle washers.
In last night's episode of MasterChef we at last got to glimpse the 10 contestants working together, and in no less pressure than the relaunch of Simon Gault's waterfront restaurant Euro.
The pressure of a real restaurant kitchen, with a real maitre d' and customers made the studio kitchen seem like Playschool.
The 10 were divided into pairs to prepare a course each and, oh, what five courses Simon had designed. Michael and Tracey Lee's challenge was a modern take on caprese salad - basil jelly instead of a mere leaf, with the cheese and tomato - and a sliver of beef carpaccio wrapped around a pillow of magic bread stuffed with a savoury bavaroise.
Nadia and Stu had to pull off a green pea soup with potato and anchovy on top ... in a flat test tube, topped with a tiny sugar swirl encapsulating the olive oil.
Jax and Antony's duet of duck breast and Serano ham with parmesan baskets of a fois gras ice-cream was anything but simple.
Antony proceeded to burn the duck, lose some of his servings and forget to freeze the ice cream.
It was up to reliable country folk Cameron and Michelle to take care of the venison, parsnip puree and courgette dish.
Michelle made a supermarket dash after they ran out of courgettes.
Happens in real life, Simon warned, good training guys.
Fiona and Sam knew theirs would be the toughest dish - a chocolate pudding that had to straddle the fine line between perfect ooze and raw, times 100.
Personalities emerged. The oddest couple was Fiona and Sam - she knows her pastry work, he scorns desserts as "not real food".
Anthony was scarily happy-go-lucky as he ignored a recipe, burnt duck breasts and chucked food away.
For a true kitchen that would make him cannon fodder, and hard-working Jax drew deeply from her happy place not to lose it.
For calm in a crisis, once again, cameras to Cameron, who works harder without his courgette-shopping partner.
Stu and Nadia found the perfect combination - she indulged her love of presentation and garnish to nail the olive oil sugar swirls, his teacher skills rounded up the troops to send out 100 arty plates.
They deserved their win. The pudding course was lucky to have Fiona tapping and testing those deceiving little chocolate monsters.
The judges' verdicts had Simon giving the soup a 10, Ray McVinnie smitten and speechless at the perfect pudding and all the judges starry-eyed at the heavenly parsnip puree and venison.
Jax and Anthony fell well behind in their score of only 20 out of 30 and no doubt the chat-lines will be running hot with the surprise decision not to send any of the 10 home. Simon was high on how well his chefs performed.
* Catherine Smith is deputy editor of Weekend Life and a member of the Food Writers' Guild.